I'm going to be flying a lot over the next few months, which means that it's time to stock up on some good reading material. While I'm traditional & still enjoy the feeling of a paper book in my hands, all these books can easily be downloaded to your e-reader. Here are some of my favorite new (& old) reads: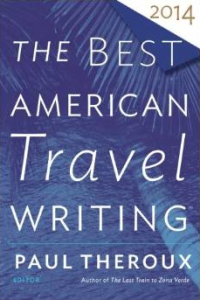 The Best American Travel Writing
I love books like this for flights because you can read one story or you can read the whole book. Some of my favorite writers have contributed to this anthology in the past & I can't wait to dive into this year's edition. One of my favorite things about this particular book is that you can travel from France to the Caribbean to India with just a turn of the page.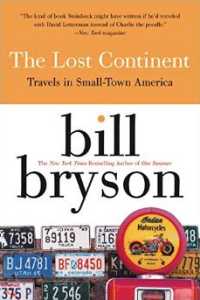 The Lost Continent by Bill Bryson
This was the first Bill Bryson book I read & it made me fall in love with Bryson's hilarious travel narratives. It is a throw back to road trips of my childhood, driving from Cleveland to Minneapolis through the endless cornfields of Iowa. The best part? It's a quick & easy read, perfect for a flight.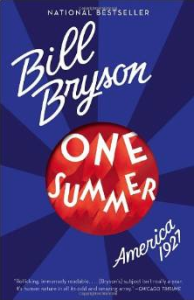 One Summer by Bill Bryson
I'm still in the middle of reading this book, which documents that amazing events that happened in America during the summer of 1927, but it easily one of my new favorites. Bryson painstakingly documents the well known events that happened that year – Charles Lindbergh's flight across the Atlantic, Babe Ruth's home run record & some hijinks in the White House – & combines them with background stories that surrounded these events. Lindbergh's story runs throughout, as he toured America following his amazing flight. This is the type of book that you don't want to read when you're tired because you just want to soak up every detail.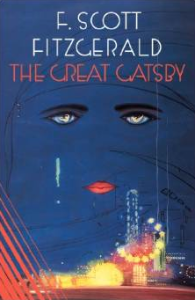 The Great Gatsby by F. Scott Fitzgerald
This is my all time favorite book. I reread it every summer & fall deeper in love with Fitzgerald's dreamy language. Poor B is always a good sport when I reread this classic novel – I lay in bed, reciting Fitzergald's passes about eyes of Dr. T.J. Eckleburg. If you haven't read this book since 10th grade English class, it's definitely time to pick to up again. You'll be surprised how quickly you get through it… that is, unless you linger over the beautiful language.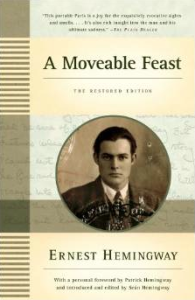 A Moveable Feast by Ernest Hemingway
Like The Great Gatsby, Hemingway's homage to 1920s Paris is a feast for the eyes (see what I did there?). I read this book on the deck of the Celebrity Equinox a few years ago & the beautiful language has stayed with me since then. If you liked the movie Midnight in Paris a few years ago, you'll love A Moveable Feast.
So what did I miss? Have you read anything good lately, either on land or while on a flight?
Leave a comment below!