During my first international solo trip to Prague last December, following our Viking River Cruise, I hemmed & hawed about where to stay before deciding on the Four Seasons Prague. My decision to stay there was largely driven by its location: right next to the Charles Bridge & a five minute walk to Old Town Square. It turned out to be a great choice because, while I am always a sucker for the exemplary service at luxury hotels, this hotel felt extra special since it felt like I had someone "looking out for me" as I wandered the (totally safe, not at all scary) streets of Prague solo.
The Hotel
The Four Seasons Prague, which opened in 2001, is actually made up of four buildings that are seamlessly connected. With just 138 guest rooms & 19 suites, this relatively small property has an intimate, boutique hotel feeling. The lobby features something I always look forward to when staying at a Four Seasons property: the always stunning floral displays. Since I visited during the holidays, there were also several Christmas trees around the lobby, including a very interesting modern looking one made of glass. One evening, I enjoyed sitting in the lobby with a warm beverage in hand, reading a book in front of the roaring fire.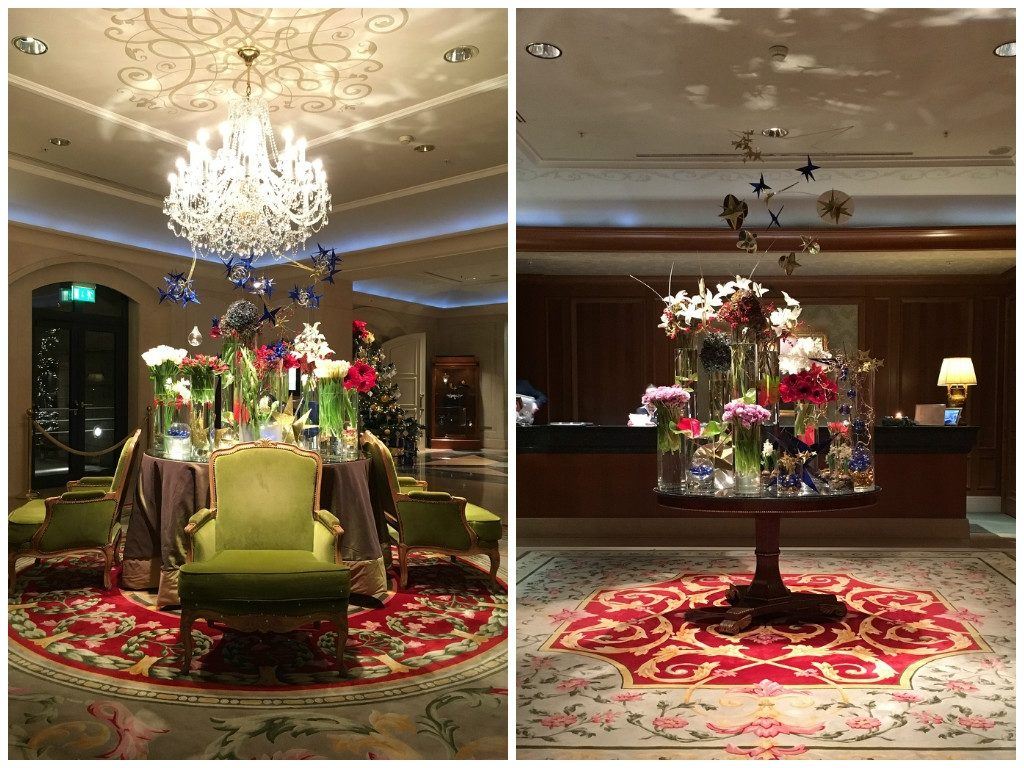 The recently renovated AVA Spa was a bit tricky to find, tucked down several corridors on the second floor & then accessed by it's own elevator, but well worth the effort. Even if you're not getting a spa treatment, all guests have access to the vitality pool which features a waterfall, massage jets specific to each area of your body & even a fireplace. It was the perfect place to relax after I spending most of the day walking around in the cold drizzle. Best of all, the evening I visited, I had the run of the place to myself!
Impeccable Four Seasons Service
As is typical at Four Seasons properties, the staff was absolutely amazing: The concierge team made recommendations to me for everything from where to buy reasonably priced, quality Czech crystal to an off-the-beaten path lunch place (they sent me to the very yummy La Bottega di Finestra for delicious rabbit ragù over homemade linguine). The front desk staff remembered me by name & were friendly in helping with currency conversions (I did a terrible job estimating how many Euros I needed for this trip!). The bellman always said hello & even noticed one morning when I darted out for breakfast without my camera ("No photos this morning, miss?"). Even room service, who delivered a steaming hot bowl of goulash to me one evening for a late dinner, were wonderfully pleasant. It truly felt like being at home & that was comforting, especially as I was approaching day 13 of being away from home.
My Beautiful, Comfortable Room
Each room in the property is decorated according to which building it is in. My beautiful Renaissance Room overlooked the rooftops of Old Town Prague & was quite large. Even though it's one of the more newly renovated rooms in the hotel, the character of Prague's Old Town charm was not lost in the details: a crystal chandelier, a display of "Onion" Czech porcelain, Renaissance era paintings. The king sized bed was made with luxurious linens & enough pillows to feel like I was sleeping on clouds. I enjoyed sitting & writing in the oversized chairs. Technology was also top notch, with a large flat screen TV with an interesting variety of TV channels (no American stations, but lots of European & Middle East stations!). The TV also allowed me to stream the Netflix from my phone onto the screen, something I've never seen in a hotel room before!
The large marble bathroom included a separate glass enclosed shower & soaking tub. I took a bath one evening, enjoying their lavender bath products & a sprinkle of bath salts, an amenity I can't remember ever seeing at a hotel previously. The towels were fluffy, the flowers were fresh, the toiletry products high end (they even provided a new zip-lock baggie for my carry on travel sized products) & the scale mercifully only gave my weight in kilograms!
Breakfast
I had breakfast at the hotel one morning – just a simple croissant & yogurt (the server thought I looked "hungry & tired" so she actually brought me two croissants!) – & it was lovely. But the other mornings, I decided to venture out into the neighborhood to find a local coffee shop. I had noticed Paneria while I was out walking around &, since it looks suspiciously like Panera (the American breakfast cafe), I thought it was worth a shot – & ended up eating there two mornings in a row. A simple breakfast of quiche & coffee cost me only a few Euro & it was always bustling with university students. Looking for something a little bit more fancy? Check out this excellent list of breakfast places from Taste of Prague.
A Lovely Stay
Three days was hardly enough time to properly explore Prague (even with a great walking tour) & by the time I left, I was sad to check out of my home away from home at the Four Seasons. When I return to Prague, I have no doubt where I'll stay.
Know if you go…
-the Four Seasons concierge team can also arrange for airport transportation (either at the hotel or ahead of time). It takes about 30 minutes to get to the airport & the driver was very friendly. When we arrived, he even parked & carried my suitcase into the terminal for me, right up to the check-in desk.
-per Four Seasons tradition, the in-room bathroom & slippers were SO fluffy & comfortable. Seriously, Four Seasons is lucky I didn't steal the slippers!