A few years ago, in an effort to start reading more, I started an Instagram challenge to encourage myself – & others – to read at least one book per month. In 2015, my first year, I challenged myself to read 12 books & only made it through 11. But in 2016, I kicked butt & read 24 books for my #12booksin2016 challenge.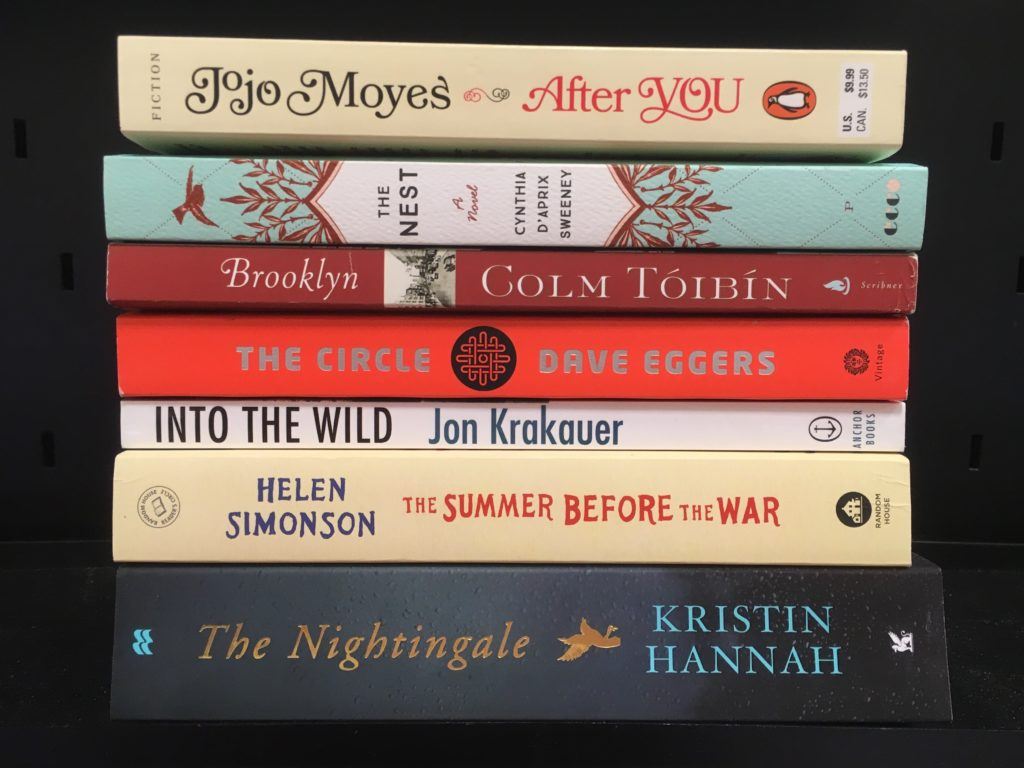 This year, I thought I'd meet in the middle & settle on 17 – #17booksfor2017. I just finished my ninth book & am more than half way through, so I thought I'd let you know how it's going, in case you're looking for books to add to your summer reading list. I've included (non-affiliated) hyperlinks to that lead to some of my favorite independent bookstores around the country – fight the urge to shop Amazon & support local booksellers & authors!
A gripping, non-fiction account of the death of a young man who gave up everything to hike solo in the Alaskan wilderness. Who is ready for a bit of adventure – & mystery?
This book was the start of my war-time fiction kick in the first half of this year. This is a heavy one (& not just because it ran almost 500 pages). Interconnected story lines tell the tale of the inhabitants of a small English village during WWI. A little Downton Abbey, a little Saving Private Ryan. A great, gripping read.
It has been a long time since I've read a book in less than a week (not on vacation), but I couldn't put this one down! I know it has been out for a few years, but for some rason I never picked it up (& no, I haven't seen the movie either). Compared to my first two books, it was a relatively easy, short (about 250 pages), read & honestly, it was really nice to read something relatively uplifting. I thought the main character was going to disappoint me in the end, but she came through. If you haven't read this ode to Ireland & NYC yet, it's worth your time.
When I'm looking for a new book to read, I usually pick from a long list of recommendations from friends, coworkers & magazines that I have saved on my phone. But occasionally, I also browse the "what's popular" section on my library's e-book site, which is how I stumbled upon this book. I had never heard of the prequel or the movie or the author, but knew it was popular so I thought I would give it a go. I can't say it was the most highbrow thing that has ever been written & the story was somewhat predictable, but it was an enjoyable commuting read, so I'll take it.
Woah nelly. My mind was spinning from this book. It's a gut wrenching look at racism in America. White readers will spend the majority of the book feeling uncomfortable. The ending is totally bizarre, but it's still a worthy read. I haven't read any other Jodi Picoult, but think I will in the future.
This was my vacation read during our trip to St. Maarten. I loved the book & the intertwining stories of what money does to families. Great read, even if the ending is not as great as the rest of the book.
This book just gutted me. I didn't want to put it down. I didn't want to pick it up back. It's an incredibly moving story of two heroic sisters living in WWII occupied France. History… it is cruel.
Unsurprisingly, I loved this book. The editor, rather famously, published a previous anthology of essays written by various famous people saying good riddance to NYC. She got a lot of flack for it because, like me, there are a whole lot of people madly in love with New York City. So she published this as a bit of an apology – an ode to the city.
I really enjoyed this book – & am so clueless I didn't even know it was being made into a movie with Tom Hanks & Emma Watson! The story does not end the way you think it will, which is oddly satisfying. I read my first Dave Eggers book in high school ("A Heartbreaking Worth of Staggering Genius") & have enjoyed everything I've read of his since.
So… what have you been reading lately? What should I read next? Leave your suggestions in the comments below!