A few weeks ago, B & I decided to do a little local exploring & ventured one Sunday out to Clifton, Virginia (population 294), a very small town about 45 minutes away from where we live. Our destination: brunch at Trummer's on Main & an afternoon wine tasting class at Paradise Springs Winery. Could one small town possibly contain so much goodness?
Trummer's on Main, despite being a bit out of the way from most of the population around the DC Metro area, is consistently ranked as one of the best restaurants in the area. I had heard great things about their Sunday brunch & decided to stop by to test it out. We dined on a heaping plate of piping hot beignets, served with sweet dipping sauce; I had a perfectly spicy chorizo omelet; & B enjoyed breakfast sandwich sliders: little slider-sized biscuits with eggs, chorizo & cheese, topped with sausage gravy (their homemade chorizo is a big deal). Brunch was, indeed, quite good.
Our tummies full of good brunch, we made our way down a quiet, winding residential street to Paradise Springs Winery. The only winery in Fairfax County & the closest winery to DC did not arrive at its location without some controversy. But, like all things that are worth fighting for, everyone now seems pleased with having the winery next door, carrying on Virginia's growing wine tradition.
We enjoyed a tour of the property, led by Richard Carson, who is the manager of the tasting room. We enjoyed continuing our wine education (not a bad goal to have in life!) & sipping many of the wines that Paradise Springs produces on site. We were able to step inside the early 1800s cabin that is on site – their first tasting room – & learn about how they age their wines in both used bourbon barrels, as well as stainless steel tanks.
The barrel room was my favorite part of the tour:  the smell of wine & wood all mixed into one in a tightly climate controlled room. It was interesting to hear about how wine is aged in barrels, allowing the sentiment to settle to the bottom. We enjoyed sampling wines & tasting the difference in wine just out of the bottle vs wine that had been decanted for an hour.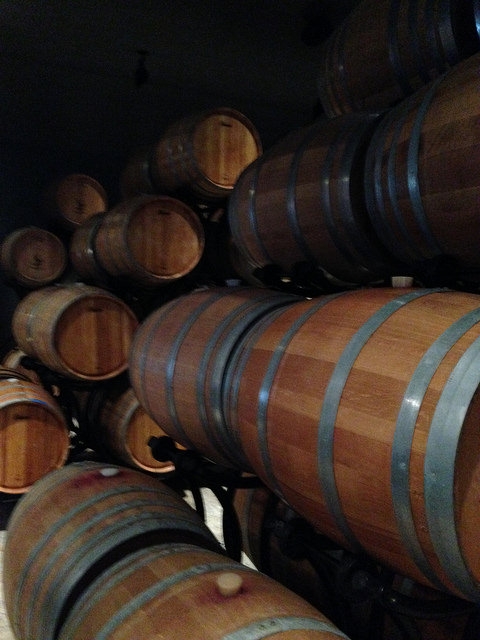 We exploring new places around the globe, but especially love discovering hidden gems right in our own backyard. I can't wait to return to the tiny town of Clifton once the weather warms up a bit!