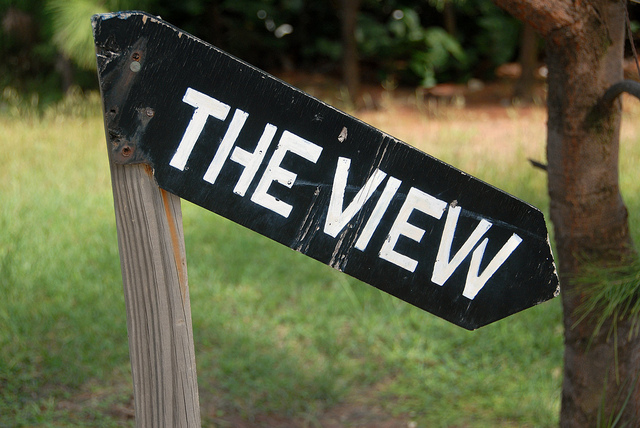 January 13, 2011


Barbados: Animal Flower Bay

Some signs advertising tourist destinations in Barbados are extremely helpful. They're large, brown, official looking signs put up by the government to help lost visitors find popular tourist destinations. They're practically essential since pretty much none of the roads in Barbados have names or street signs or anything identifying one sugarcane lined road from the next. Others, like the one above… not so informative.

The sign above sits off to the far right side of a parking lot usually crowded with tourists taxis & doorless rental cars. The area serves as parking for the Animal Flower Cave, a cave which may or may not be worth paying the $20 to go see (but apparently was featured in a Billy Ocean music video). However, we weren't there for the Animal Flower Cave. We were there for The View.

What a magnificent view it was. The cliffs on the northern tip of the island, the first part of the island to break through the ocean's surface when the land we now call Barbados was created all those thousands of years ago, have always been one of my favorite places on the island. The views are incredible – miles of uninterrupted coastline with giant Atlantic Ocean waves crashing against cliffs. The water is so clear & aqua blue, just like everywhere else on the island. There are few other places in the world I have been to that make me feel one with nature the way this place does.

There is a gravel path that allows visitors to walk around the lip of Animal Flower Bay. We continued on past the path, onto the undeveloped rock. I took hundreds of pictures, none of which could really capture the powerful beauty of being there. The strong wind blowing my hair every direction (a ponytail is really the only acceptable hairstyle in Barbados, anyway), the smell & taste of salt in the air, & the constant crashing of the giant waves are things that all instantly come back to me when I think about our visit there.

Moral of the story: sometimes the unofficial signs lead to the best attractions.