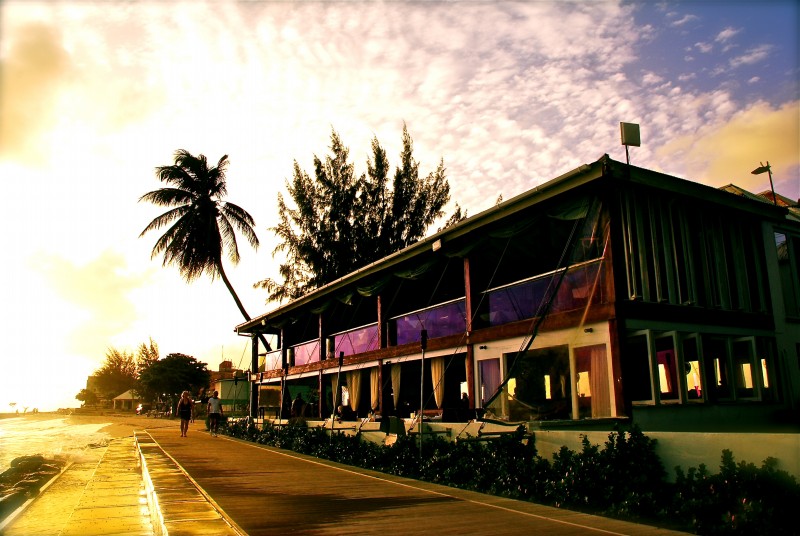 January 27, 2011


Restaurant Review: Tapas; Christ Church, Barbados

Like many of the places along the Hastings Main Road in Barbados, the building which houses Tapas restaurant doesn't look like much from the street. The parking lot is small, often full, & easily missed if you're not looking for it. The hostess station is bustling with locals & tourists trying to get a table for the evening  – (make sure you make a reservation, so as not to be disappointed. In the dark of the night, you can hear the waves crashing on the beach, but it's hard to see out to the ocean from the entrance through the crowds.

Once you're on the way to your table, though, that all changes. The "back" of the restaurant is completely open to the beach, with tables situated right up to the boardwalk. I prefer sitting upstairs, which allows you to look out onto the ocean & down to the people sitting below. It's a different, more intimate experience from sitting right on the boardwalk, where there's a constant stream of folks out for an evening walk.

After waiting the appropriate amount of Barbados time, the relatively attentive waiter brought us menus & water. Everything I've ever ordered at the restaurant has been fantastic, as were the two bottles of Chilean Pinot Noir we downed at our most recent visit. My favorite thing is probably the jumbo shrimp with seafood risotto – the risotto was perfect, a throw back to the owners days managing an Italian restaurant on the island. The pan fried goat cheese appetizer is to die for & the mezze plate, which is on the tapas menu, is the perfect light appetizer to share. I'm a pretty big fan of dessert, but it takes a lot to make dessert worth the calories for me, especially when you're dining outdoors in a warm climate. However, the desserts here are worth a taste. The coconut creme brulee is creamy & fresh & the napoleon is chocolate-heaven.

A word of advice: Barbados is not a fancy island, but make the effort to put on a decent outfit if you're headed to dinner here. Those dressed appropriately got the best tables, while a family of teens dressed in cut off jeans didn't get the same great view that we were afforded. All it takes is a nice pair of capri's & khaki's to do the job.
(P.S. all photos courtesy of Tapas. The photos I took just didn't do this awesome place justice!)

(P.P.S. I hate the word foodie.)