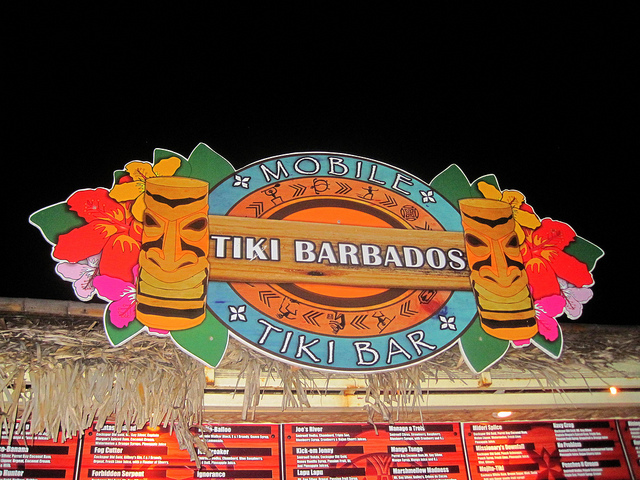 March 31, 2011


Barbados: Mobile Tiki

Update: On our last visit to Barbados, we discovered that the mobile tiki bar is no longer camped out in the lot next to KFC. BUT we heard a rumor that it is roaming around the island – so keep your eye out for it!

Sometimes when I travel in foreign countries, I see things that are genius, but would never fly in the United States due to our myriad of rules & regulations.

Hot lunch food served out of the back of a van.

Serious lack of sidewalks in heavy pedestrian areas.

A mobile tiki bar serving up no less than 40 different liquor drinks.

Yup, you read that right: a tiki hut on wheels, ready to pull up & pour your tequila drink of choice. I know what you're thinking: 'That is so genius, why didn't I think of that?' Probably because you know, in the U.S., liquor laws would never allow for such a thing.

The mobile tiki hut, when it's not being mobile, lives in an empty sand lot next to the KFC on the south coast of Barbados. Like many things on the island, it may or may not be open when you pull up, as it wasn't the Friday night we tried to go there ("We had to close for a week." Um, okay). But if it's not open the first time, try, try again.

When we finally rolled up to an open bar, we couldn't believe how many drink choices there were – over 40. In addition, if you don't want a pre-concocted (but made on the spot) drink, you can order beer, wine, liquor or pretty much anything you're fancying. The vibe was chill, as one would expect from a tiki bar. The clientele a good mixture of nationalities (our bartender was Australian, the folks sitting next to us Dutch). We tried the Bushwacker (really more of a dessert than a drink) – Mt. Gay Silver, Kahlua, Creme De Cacao, White Chocolate Syrup, Coconut Cream, Milk – & it was excellent.

If you're in Barbados, & on the south coast, it's definitely worth a drive by to see if they're serving up drinks. Grab a stool at the bar or a chair in the sand, & enjoy a taste of the South Pacific Barbados.