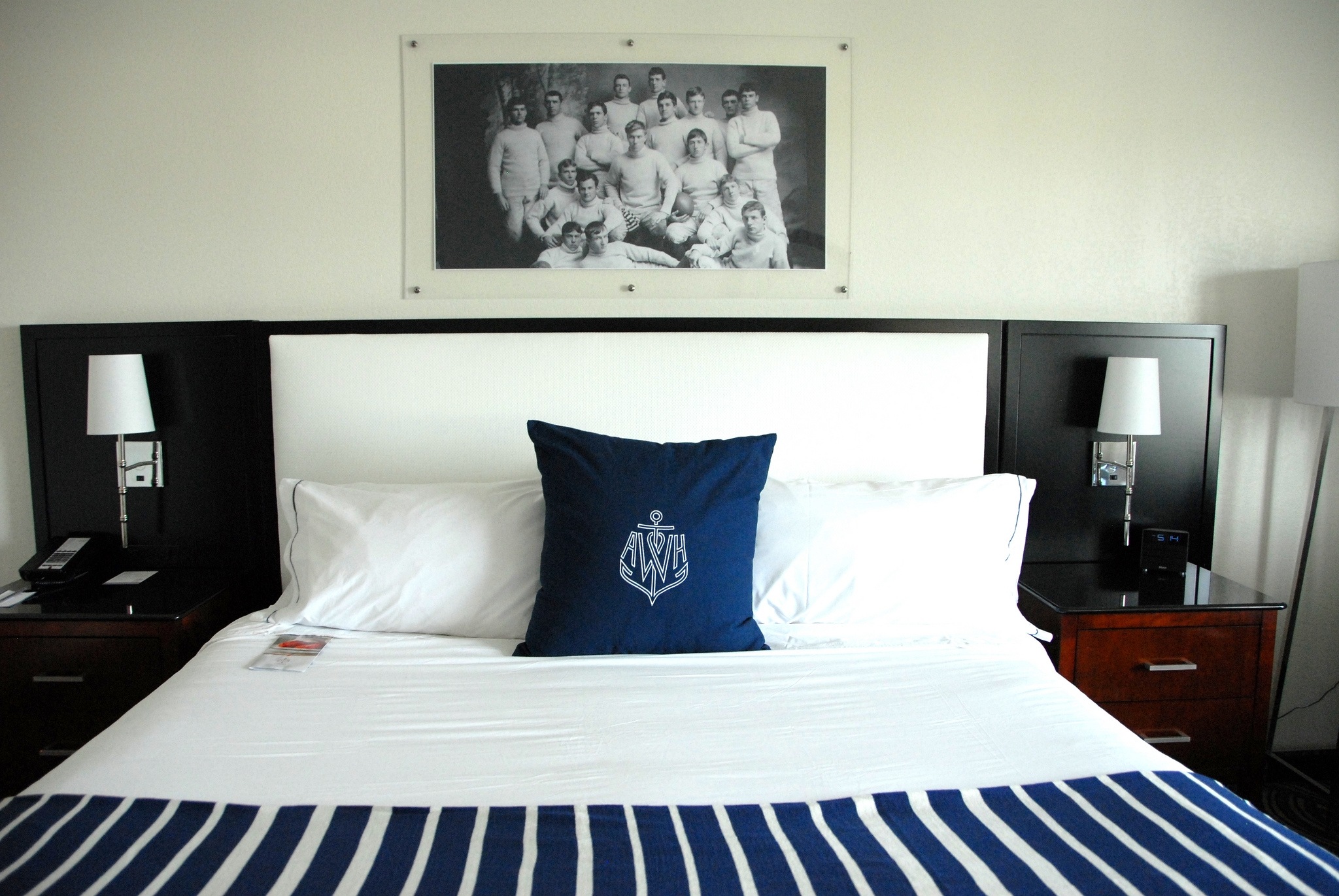 August 2, 2016


Hotel Review: Annapolis Waterfront Hotel

While I'm always willing to hop on a plane & fly to Europe at a moments notice, yet for some reason I have a mental block on visiting places right in my own backyard. I've lived in the Washington, DC-area for over a decade, & yet never spent any time in nearby (read: 40 mins away) Annapolis, Maryland. This capital city, home to the U.S. Naval Academy, & all around great seaside town makes for a perfect weekend getaway, so when the Annapolis Waterfront Hotel invited us over the weekend, I jumped at the chance to visit a place I should have explored a long time ago.

Situated right on the water, the only waterfront hotel in Annapolis went through a big reno last fall & is now super cute, nautically themed & perfect for a weekend in town. Previously known as the Annapolis Marriott Waterfront, the property is now part of the great Marriott Autograph Collection of independent properties (bonus for guests: all the Marriott perks for members of their frequent guest program!).
Our Room
Our room, a standard city view room, had a great view of both the statehouse & Navy Chapel, along with all of downtown Annapolis. We were in a special PURE allergy-free room, which includes a high efficiency air purifier (honestly didn't notice much of a difference, but the white noise was nice!). The bed was super comfortable, with crisp, white linens. I loved that our room had an oversized chair – it's nice to have a space to sit & relax or watch TV that's not the bed. The bathroom had a walk in shower, but a small vanity area that showed the hotel's age a bit. If we go back, I will definitely splurge on one of the property's waterview, balcony rooms.
Good Eats
Attached to the hotel is Pusser's Caribbean Grille, which serves as the hotel's restaurant for breakfast & bar for late nights – & boy did it get hopping in the evening! There were at least two weddings at the hotel when we were there (on the hottest weekend of the year) & the wedding guests were definitely partying hard at Pusser's. We grabbed breakfast there our first morning & it was fine – typically hotel (over) priced, but the food was good & the views of being right on the water were spectacular.
Friendly Staff
We really enjoyed our stay at the Annapolis Waterfront Hotel & wouldn't hesitate to stay there again. All the staff we encountered were super friendly – from the hard working valet & bell boys, to the cheery front desk staff. They even greeted us with a bottle of rosé, which is definitely the way to my heart!
Know before you go… 
– check out several packages that Annapolis Waterfront Hotel offers, including the one we did: Exactly Like Nothing Else. It included dinner for two at the U.S. Naval Academy's "Officer's Club" (actually an on-campus officer's restaurant & bar), which was a neat experience.
– the hotel is valet only at a rate of $25 a day, so be sure to budget that into the price of your trip, since there's no way to get around it.
– wifi is free & was great in our room. You can pay to upgrade to "enhanced" wifi, but unless you're doing some major video work, it shouldn't be necessary.
– check-out is the earliest of any hotel I've stayed at in quite a while: 11am. They didn't mention this at check-in (a pet peeve of mine!), so make sure to plan ahead your last morning.
– AWH does take care of one of my other hotel pet peeves: there is ample in-room Starbucks coffee to brew!
Note: Our stay at Annapolis Waterfront Hotel was provided complimentary by the property; however, all opinions are my own – it was super cute!