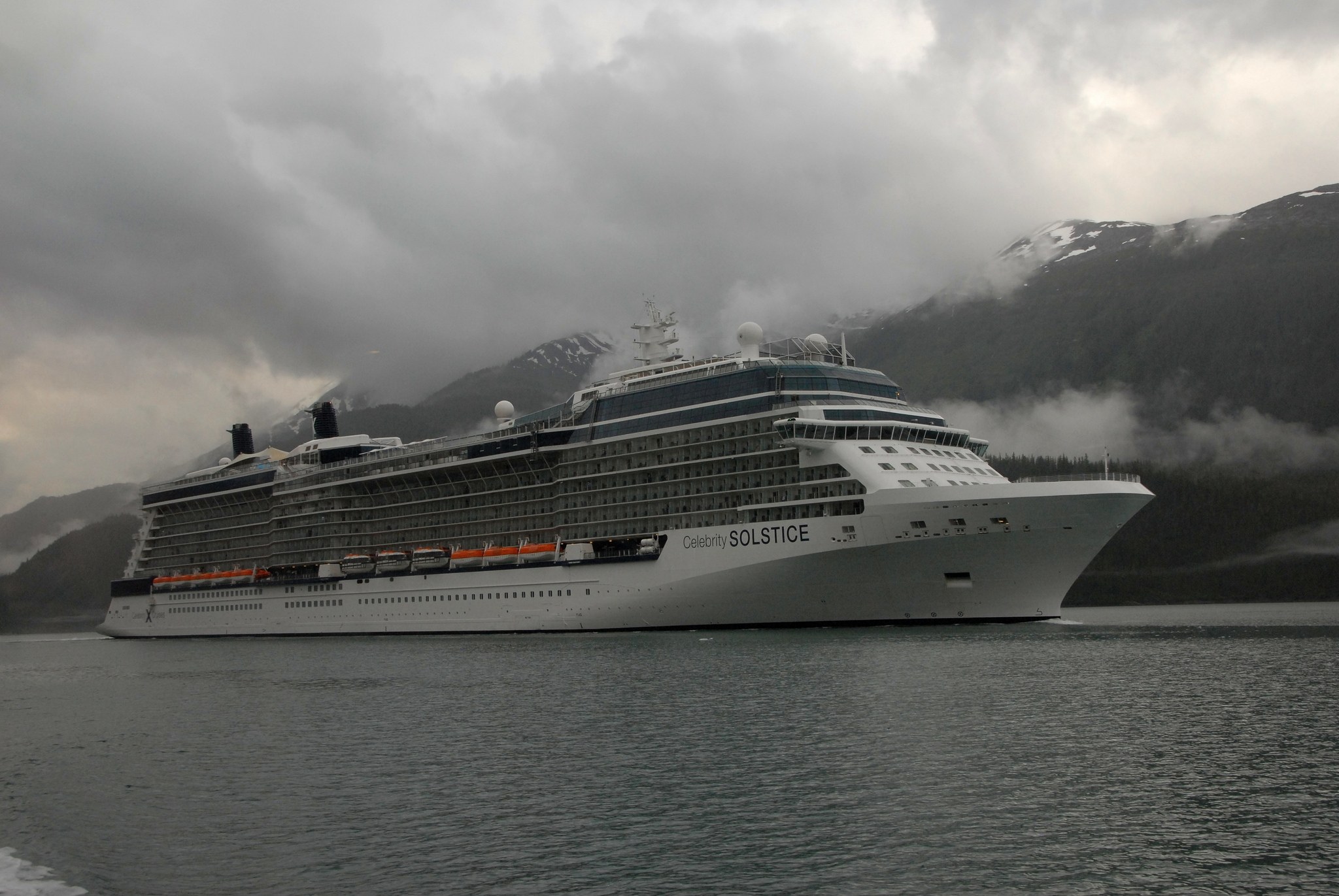 August 15, 2017


Cruising to Alaska on the Celebrity Solstice

Despite cruising all over the Caribbean, Europe & even Canada, one trip still alluded us: the famed cruise to Alaska. Undeterred that these itineraries are traditionally loved by generations the tend to skew older, we booked our trip a mere three weeks before the July 4th holiday – shockingly late (even for us) for a Celebrity Cruise to Alaska & definitely late for many people who look forward to this trip of years. After seven days on the Celebrity Solstice, we came away with mixed feelings for our favorite cruise line, but definitely no hard feelings toward Alaska. Here's what it's really like to cruise to Alaska on the Celebrity Solstice.
The Solstice
The Solstice was the game changer for Celebrity in 2008 when she floated off the line: the first in their new line of "Solstice Class" ships, meant to usher in a new era of cruising: sleek, luxurious, modern & focused on attracting a younger, hipper crowd who is more interested in martinis than  Mah Jongg. This was our third vacation on an "S-Class" ship, having fallen in love with Celebrity on the Equinox in 2012 & cruised on the Reflection in 2014.  In a way, it was like coming home: we knew the layout of the ship, we knew what we liked & didn't like previously (although some of our favorites, like the crepe bistro, have gone away) & we generally knew what to expect. Celebrity Solstice Class Ships still have my favorite atrium area on the seas, complete with the live tree suspended between the mid-ship elevators. Another perk that only exists on the Celebrity Solstice, Equinox & Eclipse: the Corning Museum of Glass Hot Glass Show. Combining two of my favorite things (cool art & the Finger Lakes region of New York), we loved chatting with the artists after the show & the fact that they have a 1000 degree furnace on a ship moving through the ocean continues to blow my mind.
Looking Her Age?
The ship will celebrate its 10th birthday next year & while some areas look beautiful & well-kept, including the sunny, spacious library, unfortunately other areas are looking a little in need of some love. Almost every outdoor wood surface, including our cabin balcony railing, could use a fresh coat of varnish. In some outdoor areas, the wood railing is missing, which while it doesn't pose a safety risk – the glass or metal wall is still there – it's less than attractive to look at caution tape strung up around the ship.
Celebrity's famed Lawn Club, one of the things that attracted us to the line in the first place many years ago, looked worst than my lawn at home in the middle of the summer, with big parts of it more dirt than grass or large areas, including the main lawn, roped off from use. I don't discount the battle of keeping grass alive on a moving ship, but it's something I know Celebrity can do because I've seen it on other ships. It also seemed that too many public places were plagued by seat cushions that were faded or ripped. The whole ship just felt a bit… tired.
Our Cabin: The Good
Our veranda cabin on deck nine was located close to the aft elevators, at the beginning of the "hump" – the area of the ship which bumps out over the water. This position meant that while we couldn't see all the way forward, our balcony was deeper than others with plenty of room for lounging & whale watching. Our stateroom location was the closest we've ever been to the elevators &, honestly, I'm not sure why we've avoided that location – the increased passenger traffic wasn't an issue at all & it was nice to not have to walk down a long hallway.
The standard Solstice Class stateroom layout is still my favorite after ten cruises on different ships: the bed (two twins pushed together) is near the balcony door with the couch & closet next to the bathroom. There's ample storage throughout the cabin, so it's nice to completely unpack & store away the suitcases for the week (they tuck neatly under the bed). Celebrity's S-Class bathrooms continue to be a highlight, with tons of storage, including a glass doored cabinet which we hadn't seen on previous ships, & an enclosed shower, complete with a bar for shaving your legs.
Our Cabin: The Not So Good
In ten cruises, we've never had anything but mad love for our cabin steward (seriously, we normally want to take them home with us). Not so on this cruise. When we arrived, our room was not as clean as it should be, which started things off on a bit of a bummer note: there were gross stains & hair on the desk chair, as if it hadn't been wiped down in several sailings, & B found a previous passenger's bag of medication on the side of the bed (which we promptly turned into guest relations, only to be scolded later by our cabin steward for "telling his boss & not him"). As the cruise went on, our cabin steward woes continued:
After asking several times for wine glasses & a corkscrew (passengers can bring up to two bottles of wine per stateroom for personal consumption), we were finally informed that we couldn't be given one as had always been standard before, but had to call our room steward each time we wanted to open a bottle. This is great in theory, but terrible in execution (the night we called, our steward was in a "meeting" & we had to wait 20 minutes for him to bring his corkscrew). Note to future cruisers: bring screw top bottles of wine!
On one side of our cabin was a family with three adjoining cabins & lots of little kids, which meant screaming (mostly the parents at the kids) & slamming doors at all hours of the day. On the other side of us were two teenagers cruising in a cabin alone (their parents were elsewhere on the ship), who enjoyed playing music on their balcony at all hours & being generally loud (as teenagers do)
Four decks down below our cabin was a designated smoking area – perhaps the biggest annoyance of any of these things.
During the cruise, I mentioned the door slamming to a few crew who shrugged & said 'tis the nature of summer holiday cruising. Post-cruise, I asked about the corkscrew policy (we should have gotten one on request) & the annoying teenagers next to us (they were of-age to be in a room alone). I'd love for Celebrity to think more about how their policies impact guests & their efforts to attract more passengers just like us (we fit their target demographic like a glove).
Note: we cruised Concierge Class, which is worthy of a post of its own – so stay tuned!
Dining
I think our experience in the Main Dining room was the nail in the coffin of traditional dining for us. I've written before about how much we love traditional dining: eating at a set table, every night, with interesting table mates & an engaging waiter & assistant waiter who got to know us every night. Our dining experience on Solstice was anything but this: our waiter was completely overwhelmed by the huge table of 14 sitting next to us (wasn't supposed to be a table of 14, but they moved chairs around & insisted on sitting together) so much that we barely saw him. I don't blame him for this, I blame the maitre'd. We were isolated at a little table for two next to a pole & had no one else to visit with. I wish we had just done Select Dining & called it a day.
When it came to what was on the plate, though, it was not all trouble, especially in the Oceanview Cafe, Celebrity's buffet restaurant. A focus on international cuisine meant that there were new tastes & flavors appearing every day. Indian street tacos & spicy pad thai were highlights, as was the poached egg station, preparing made-to-order eggs benedict every morning. Weird times in port meant that we ate at the Oceanview more than usual & that wasn't such a bad thing.
A highlight on the Celebrity Solstice continues to be Silk Harvest, their Asian-focused speciality restaurant. Only available on two ships (Solstice & Equinox), this innovative restaurant cooks up my favorite food of any specialty restaurant on any cruise line. Our dinner there included almost the entire menu (we have no shame), with highlights including Tom Gum Yum soup, pork dumplings, chicken green curry, orange chicken & tapioca pudding. The service was the best we had in any restaurant on the ship.
Another highlight of the food & beverage service on this sailing, which we haven't seen previously, was the availability of local beers. The ship had several Alaskan Brewing Company beers available on-board & we enjoyed sipping one while whale watching off the back of the ship.
Ports
Much like cruising Europe, you don't head on an Alaskan cruise for the ship: you go because it is majestic, remote, stunningly beautiful Alaska. Our ship, which traveled round trip from Seattle, stopped in Ketchikan, Juneau, Skagway & Victoria, BC & cruised through Tracy Arm Fjord National Park.  I can't wait to share all of my photos & stories from our time in our 49th state & British Columbia (which was arguably our favorite port). During our time in port, almost all of our excursions were booked through Celebrity &, without exception, they were all fantastic.
Celebrity also had a naturalist on board, as well as a cultural historian. Both offered interesting lectures on wildlife & the towns we were visiting in Alaska. The naturalist was especially helpful as we cruised down Endicott Arm, which was full of ice from an earthquake the previous week – he narrated the entire trip down the fjord over the PA system.
Fellow Cruisers
Unlike every other cruise we've ever been on, we weren't "the young ones." In fact, the ship was bursting with children, celebrating the 4th of July week & summer vacation with their families. It changed the dynamic of the ship & made me yearn for cruising during the school year. I really wish Celebrity was better equipped to deal with kids…
Crew
Unfortunately, with a few exceptions (including the phenomenal Captain Tsaos & the Cruise Director, Steve, who we've actually cruised with previously), the crew wasn't up to par. They were snippy (I got snapped at in the Oceanview when I asked for a clean glass after being given a dirty one), focused on up-selling at every interaction & less customer service minded than any crew we've ever had before on a ship. Other Celebrity passengers have commented on a similar experience, which is disappointing to know that it's happening widely across the line.
Embarkation/Disembarkation
We had heard nightmare stories about the Port of Seattle, specifically Pier 91 where Celebrity docks, but had absolutely no issues. We arrived around noon & were able to quickly get on board after waiting in a short security line & an almost non-existent check-in line. Disembarkation was also easy: our departure zone number was called right on time, we breezed through security & had our bags in hand, all in less than 30 minutes. Thumbs up, Seattle!
Overall
This is the most downer cruise review I've ever written & honestly that makes me sad. I don't know if I've changed as a traveler or Celebrity has changed – or maybe a little of both. Cruising used to be a go-to vacation for me, but now I'm just not sure. One thing is for certain though: Alaska was amazing (even if the weather was not) & I can't wait to return.