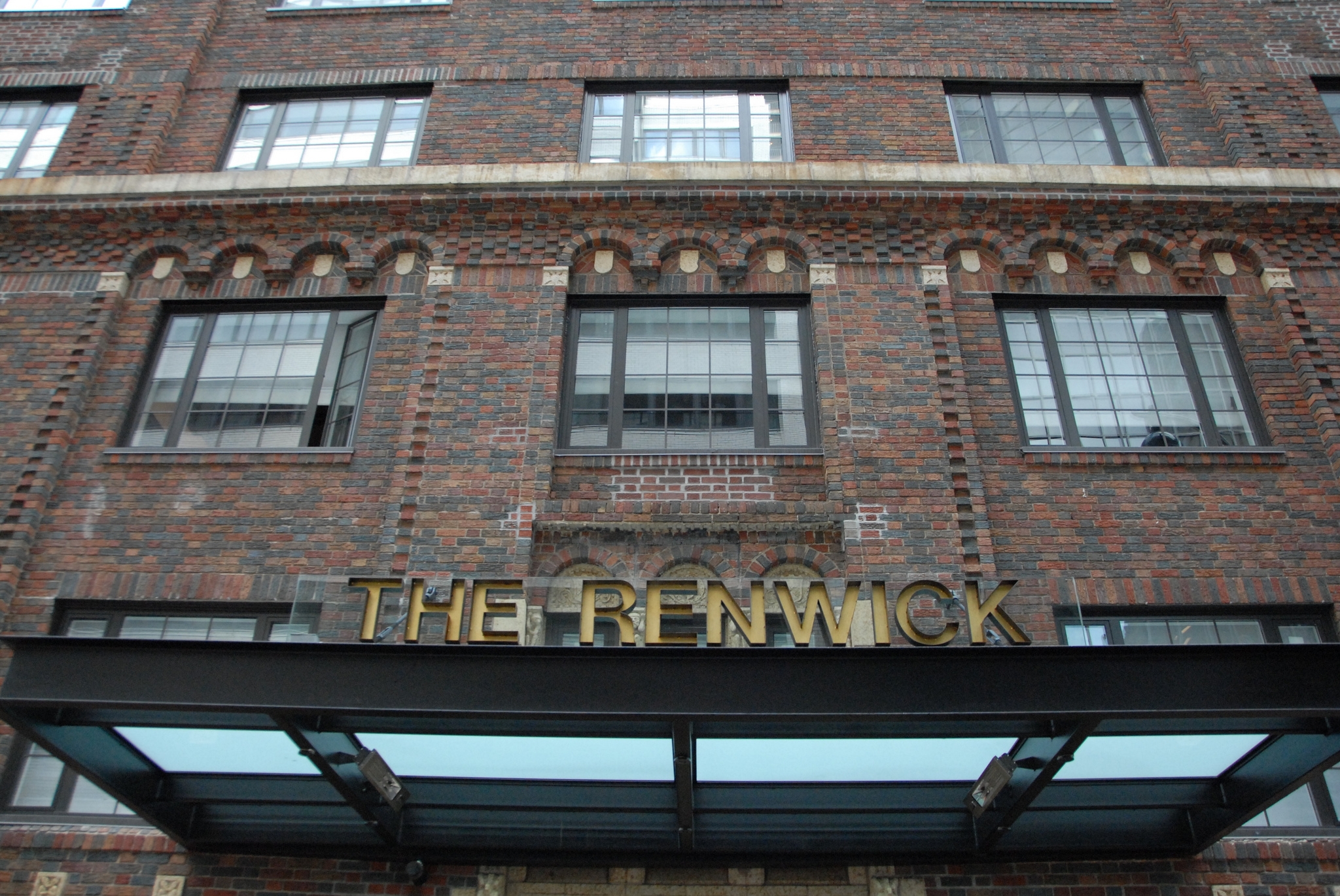 January 26, 2016


Hotel Review: The Renwick Hotel

 An Update! I recently stayed again at The Renwick, while in NYC one night on a business strip. I am happy to report that many of the staff issues mentioned in my original post have been taken care of – everyone was welcoming & friendly. My colleague & I stayed in a 15th floor room that was almost as large as the suite B & I had in January (the bathroom was about twice the size!). Their restaurant is fully up & running, although we didn't visit during our stay. Breakfast was typically NYC-priced ($14 for a breakfast sandwich? I'd run across the street to Starbucks instead). I think I can officially say that The Renwick is going to be part of my NYC hotel rotation from now on.

Original Post

We've been to New York City so many times that it's easy to fall into a pattern of staying at hotels that are familiar & comfortable. But sometimes a new property pops up that almost demands a stay. The Renwick Hotel opened their doors in November in a soft opening &, given that it's in my favorite neighborhood (Murray Hill), we decided a stay was in order.

The design of the hotel is absolutely stunning. The decor is an ode to the artists who once called the building home – Steinbeck, Fitzgerald, Mann – & extends from the lobby to the rooms. The giant mural in the lobby, which will occasionally change thanks to the hand of local artists, features NYC scenes & quotes from authors. We were greeted upon arrival by Nick the bellman, by far the friendliest, warmest member of the staff we encountered the entire time. He gave us the rundown on the hotel's amenities & also the history of the property.
Our Room
Our suite (our room rate included a guaranteed suite upgrade) was devoted to Thomas Mann, & also happened to have a stunning view of the Empire State Building. It is the largest suite I've ever had in New York & by far the smartest, chicest design (seriously: this hotel spent some dough on design & it absolutely shows – & was absolutely worth it). The living room area was very well put together, with a comfortable couch, side chair & a brand new giant flatscreen TV. Given that the weather during our visit was a bit NYC-in-January, we enjoyed a few hours of reading in the living room & it was as comfortable as if we had been at home. The desk area, which was overlooked by a giant picture window, was perfect for sitting & writing. The shade in the room? A perfect black & white New York City skyline.
The king sized bed was ridiculously comfortable, but didn't really fit in the bedroom – I banged my shin every time I got in & out of bed. One of the nicest things about the suite was having an actual door on our bedroom, which greatly cut down on street noise during the night (even on the 11th floor, it was noticeable). The bathroom was very New York sized, but adequate for two people. Design bonus points for the funky wallpaper ceiling in the bathroom & the bold black & white design in the bedroom.
We'll be back
They were still putting the finishing touches on the hotel while we were there; all guest rooms & the Presidential Suite should be completed in February. Also, the restaurant & bar weren't completed yet when we stayed (something they didn't tell me when we booked…) so they offered a hodgepodge of a continential breakfast included in our room rate. After the restaurant is open, they'll serve a hotel breakfast, lunch & dinner a la carte. I hope they keep the chocolate croissants & Illy coffee, which were the bright spot of breakfast.
The weak point of the stay was the staff – they could use a lesson in welcoming & hospitality. There were several instances where our simple requests were forgotten about, ignored or not handled professionally & I honestly never felt like a "special" guest at the hotel. For instance: Bottled water is also included daily in your rate. One day housekeeping forgot to replenish our supply, so I called guest services (the front desk) & requested some. Three asks later & water was finally brought to our room. We had a similar issue with a request for a late check out (it was never noted in our file, even though I spoke to the front desk clerk face-to-face). I'm assuming they're still getting used to things, although by month three it should be smooth sailing, & I look forward to a more polished experience in the future. We'll be back.
Know if you go… 
– Wifi is included in your rate & is actually decent, which is a nice change from the last few hotels I've stayed at
– All rooms have a mini-fridge, but only suites have microwaves. Sadly, no in-room coffee (which is a real bummer at 7am & you're in your pajamas, 11 floors up).
– As I said, I love the Murray Hill neighborhood because it's so conveniently located to Midtown, but feels like a real neighborhood (especially walking along Lexington Ave). Sometimes called "Curry Hill," the area is notable for a number of awesome Indian restaurants. We had a great dinner one evening at Nirvana, which is right around the corner from the hotel.