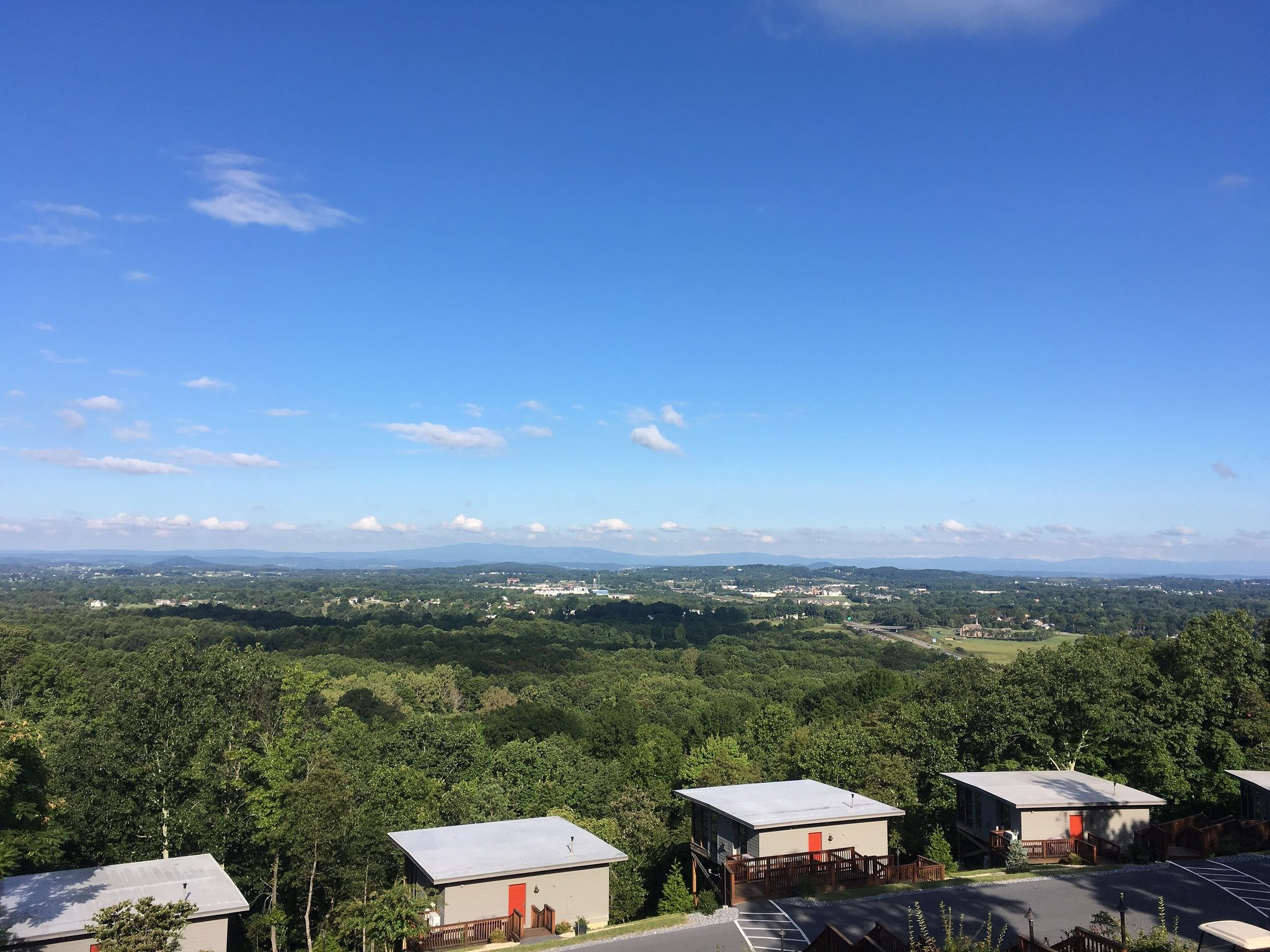 September 27, 2016


Hotel Review: Iris Inn

We normally head to the Finger Lakes region of New York for Labor Day weekend, but unfortunately this year our schedules didn't allow us to take that much time off of work. B & I wanted to continue our tradition of doing a combo hiking-relaxing weekend, so we headed two hours south of D.C. to Shenandoah National Park (an area we've seriously neglected exploring over the past decade) & called the Iris Inn home for the next three nights.

Opened in 2007 by Dave & Heidi Lanford, two of the nicest, most hospitable people you'll ever meet, the Inn is perfectly situated for visitors to enjoy the Shenandoah Valley's two main gems: nature & adult beverages.
Our Room
The Iris Inn, built in 1991 as a retreat property, is probably the most unique B&B/inn/boutique hotel we've ever stayed in. They offer three different lodging options: brand new cabins (which I'm dying to return & try out), "cottages" which occupy the entire floors of two separate buildings on the property & traditional rooms in the main Inn building. We stayed in the Hawksnest Cottage, a quiet oasis with soaring cathedral ceilings which made the room feel quite large. Hawksnest includes a nicely recently renovated kitchen, which we easily could have used to cook dinner every night (but we were lazy & instead only used to the kitchen to store beer & make coffee); a small seating area, which includes a full length couch perfect for napping & a well loved, comfy leather chair; an electric fireplace; & a Dish-enabled flat screen TV (hey, it might have been an outdoors-focused weekend, but it was also the first weekend of college football!)
Our cottage was basically a large studio apartment, but never felt cramped. The king sized bed was blissfully comfortable, with cool, soft linens. The bathroom was the real winner in the space: a long, marble-topped vanity with double sinks & a multi-head walk in shower made the whole place feel spa-like. Coupled with the hot tub on the back deck, nestled amongst the trees, & the cottage was the perfect little getaway.
Best of all, the room checked the box on all my usual hotel pet peeves: in-room coffee, fluffy robes, huge towels & since we basically had the whole building to ourselves, no slamming doors!
Breakfast
Iris Inn's breakfast options are really extensive for a B&B: egg dishes offered every day, plus a different bread special daily, in addition to some healthy options. A pot of coffee, a variety of teas & Keurig are also available in the breakfast room.
Wine & Everything Fine
Every afternoon, Dave mans the bar in the main room of the inn & serves up a variety of local wine. We loved chatting with Dave & learning about his favorite local wineries.
The Inn also offers a variety of packages (many of which include vino!) to add onto your stay. They were kind enough to add the Sip & Slip on Your Boots package to our stay, which was perfect for the purpose of our trip. Our package included a bottle of wine, a few books on hiking in Shenandoah Park which we used to plan our hikes & a great picnic lunch. Any guest can order a picnic lunch to take with them hiking or exploring. It's a huge amount of food, including sandwiches, fresh baked cookies, homemade granola bars, veggies & dip, fruit, trail mix, bottled water & lemonade mix, & came packaged up in an insulated backpack – a great value.
Welcoming Hospitality
Dave & Heidi's hospitality was so warm & comforting, it was like visiting your grandparents cool mountain house: warm & friendly, cookie jar always full & a plentiful breakfast (with plenty of encouragement to eat up). The Iris Inn is in a dynamite location, just a few minutes outside of Waynesboro & the entrance to the park, about 15 minutes away from Afton & all the breweries & wineries in Nelson County & 20 minutes east of Staunton. Whether you're out & about exploring the region, or laying on the Inn's hammock doing absolutely nothing, it's the perfect place to escape.
Know if you go…
-the Inn is right off of the highway, which is super convenient, but does mean that in the stillness of the night, you'll hear some traffic noise if the windows to your room are open. It wasn't enough to get us to close the windows though (& still much quieter than our urban house!)
-Waynesboro is hit & miss with restaurants, especially at dinner – not much is open past 9pm. We had a good "nicer" dinner at Green Leaf Grill (try the cajun – seriously! The chef is from New Orleans) & Italian after our long hike at Scotto's (which has been there for over 25 years). If you're willing to drive a bit further, head to Staunton for dinner, where reservations are a must. We enjoyed dinner at Byers Street Bistro. The staff at the Inn were happy to make recommendations.
-make sure to carve out some time to enjoy the Inn. There are a number of comfortable places to sit & read or enjoy a glass of wine. I call dibs on the hammock!