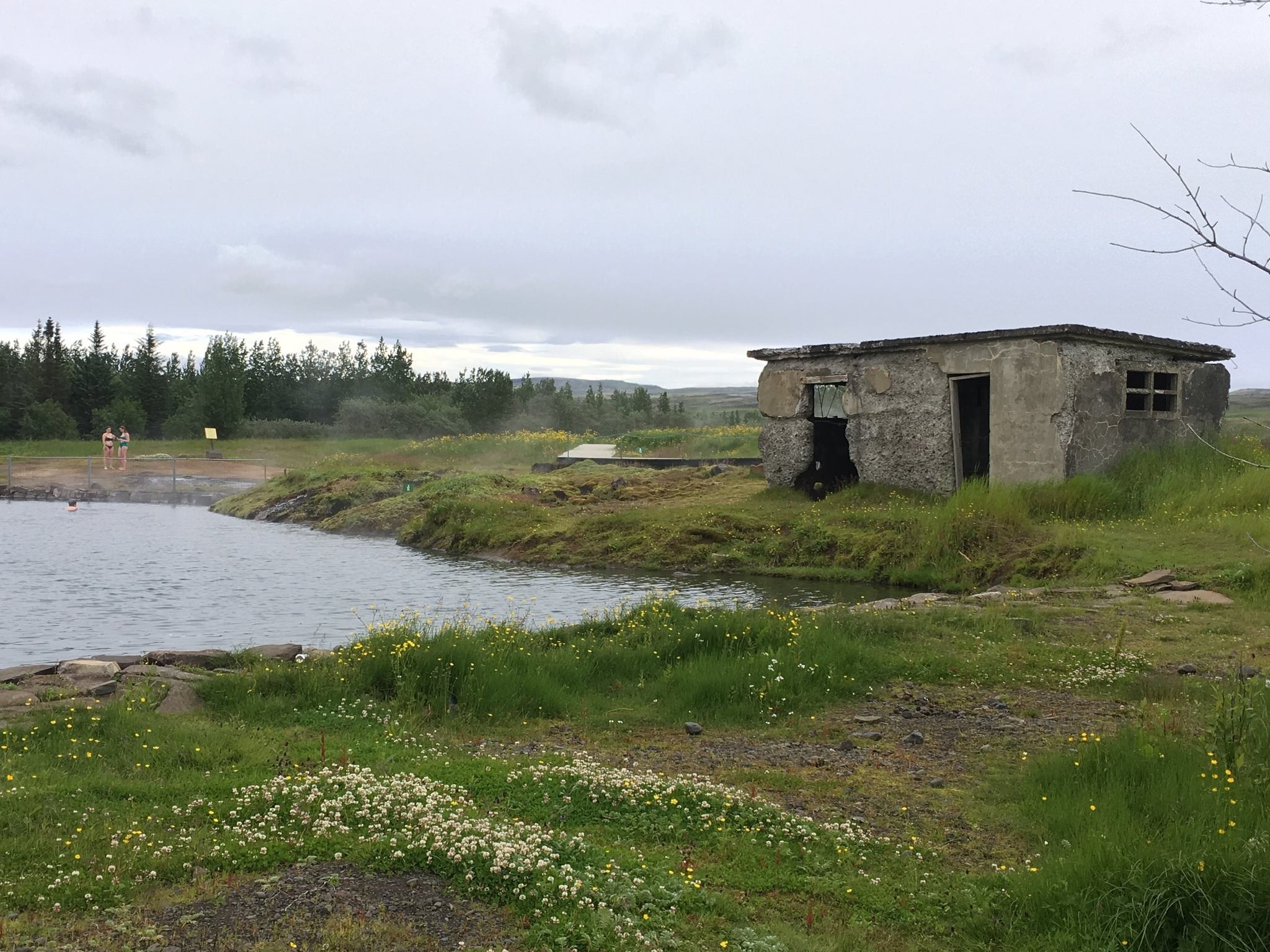 October 6, 2016


Why We Went to Iceland and Didn't Visit the Blue Lagoon

When planning our summer trip to Iceland, everyone said the same thing: "Oh! You must go to the Blue Lagoon!" But our five days in Iceland came & went & a trip to the Blue Lagoon just wasn't on the agenda.
What is this famous Blue Lagoon, anyway?
The Blue Lagoon is a geothermal lagoon located on the Reykjanes Peninsula, fairly close to the airport. You've undoubtedly seen photos of the creamy blue water & hundreds of tourists milling about, smeared with rejuvinating lava mud. The Blue Lagoon is actually a man-made lagoon, the water warmed by the nearby geothermal plant. There's an admission fee & then a variety of services you can add on to your visit, including massages & a visit to the restaurant. There are even package deals through FlyBus that allow you to head straight there from the airport. It's the most popular tourist attraction in Iceland & many people I know have enjoyed their visit.
Why we didn't visit the Blue Lagoon
There are two reasons we didn't visit the Blue Lagoon during our Iceland trip: timing & tourism.
1. It just didn't fit into our schedule. The morning we arrived, we jumped in a rental car & headed to the Golden Circle. While a visit to the Blue Lagoon would have made sense at this point in our trip, we landed at 6am (as many transatlantic flights do) & wanted to be on our way, prior to the Blue Lagoon's 9am opening time. The other time it would have made sense for us was stopping on our way to the airport, but it would have meant sacrificing our preciously short time in Reykjavik. Since we were only in the city for less than 24 hours, we chose to explore the city instead.
2. It's touristy. It's man made. It's popular for a reason, I get that. But what we wanted was a more authentic experience with Icelanders, not tourists. 
(side note: the Golden Circle is also super touristy, although at least its attractions are nature-made. You should know, going into your drive, that these are the largest crowds you're going to encounter during your time in Iceland & the tour buses may be, at times, totally overwhelming. We almost wish we hadn't spent the time to do the Golden Circle…)
Where we went instead: Secret Lagoon
At the end of the first day, jet lagged & dog tired, our final stop of our Golden Circle tour was for a few hours of soaking at the Secret Lagoon. I had read about this natural bathing pool on a few blogs & discovered it was conveniently located along our Golden Circle driving route. It's the oldest swimming pool in Iceland, having been used since 1891. As soon as we pulled up, I knew we were in for a good time.
The bath house is a small building with a gravel parking lot. The nice attendant at the desk checked us in (admission is 2800 kr.) & directed us to the locker rooms. We brought our own quick dry towels, although there are also towels & bathing suits (ew?) for rent.
After entering the locker room area, there's a co-ed area to remove your shoes & socks & place them on the provided racks, & also coat hooks. There are lockers to store your valuables (although I don't think I've ever been less worried about theft than I was in Iceland…) & the locker room was clean & organized.
The Dreaded Showers
As a prude American, I have heard a lot about the dreaded Icelandic swimming pool shower experience. Here's the deal: before swimming in any public pool, you shower naked. In a public area. With other people. I timidly wrapped myself in my tiny towel & headed to the shower area, bathing suit in hand. There was a little cubby to store my suit & phone, & hooks for towels. I dropped my towel & the whole locker room gasped. Just kidding – nothing happened. Everyone is naked & no one cares. I showered off (there's even a helpful poster reminding you where to scrub up) & soon enough was in my suit & headed to swim.
Swimming in a Natural Spring
The pool deck area at Secret Lagoon is very nice & relatively new. B & I left our things on a chair & hopped into the water. There were lots of noodles to use for maximum flotation. The bottom of the lagoon was ashy/sandy/rocky (but smooth rocks) in some places & a bit alge-e in others. The water is a bit cloudy & full of sediment, which is a bit of a surreal experience since you can't see your feet or anything under water.
We floated around, finding the different hot spots in the lagoon. We visited on a Friday afternoon & while there were other people there, but it wasn't very crowded & everyone was generally able to have their own area. It was incredibly relaxing & we easily could have floated around for several hours.
Exploring the Spring
After getting out, showering & getting back into our regular clothes, we walked around the area a bit, reading up on the history of the site & also checking out the original bathhouse, which sits in ruins on the edge of the lagoon.
Like any good hot spring, there's a little geyser that erupts every five minutes.
We really enjoyed our visit to the Secret Lagoon, which ended up being our only public swimming experience during our trip (much to our disappointment). Next time we're in Iceland, a return trip will definitely be in order.
Know if you go… 
– Secret Lagoon is the perfect stop along the Golden Circle & only about 30-40 minutes from Selfoss & Hella.
– There's a small cafe at Secret Lagoon that offers snacks & drinks.
– If you're looking for a full meal & a bit nicer of an experience, a great alternative is Laugarvatn Fontana. Right along the Golden Circle, we actually stopped there for lunch earlier in the day (bottomless bowls of soup, which were so warm & needed!) & considered throwing on our swimsuits & bathing, but decided against it. We figured if we got in the warm, inviting water, we may never get back out to finish our touring for the day. Considering how tired/relaxed we were after visiting the Secret Lagoon, I think we made the right decision!
– If you don't pack anything else when you head to Iceland, pack your bathing suit! Swimming pools are a town gathering place & a great way to mingle with locals.