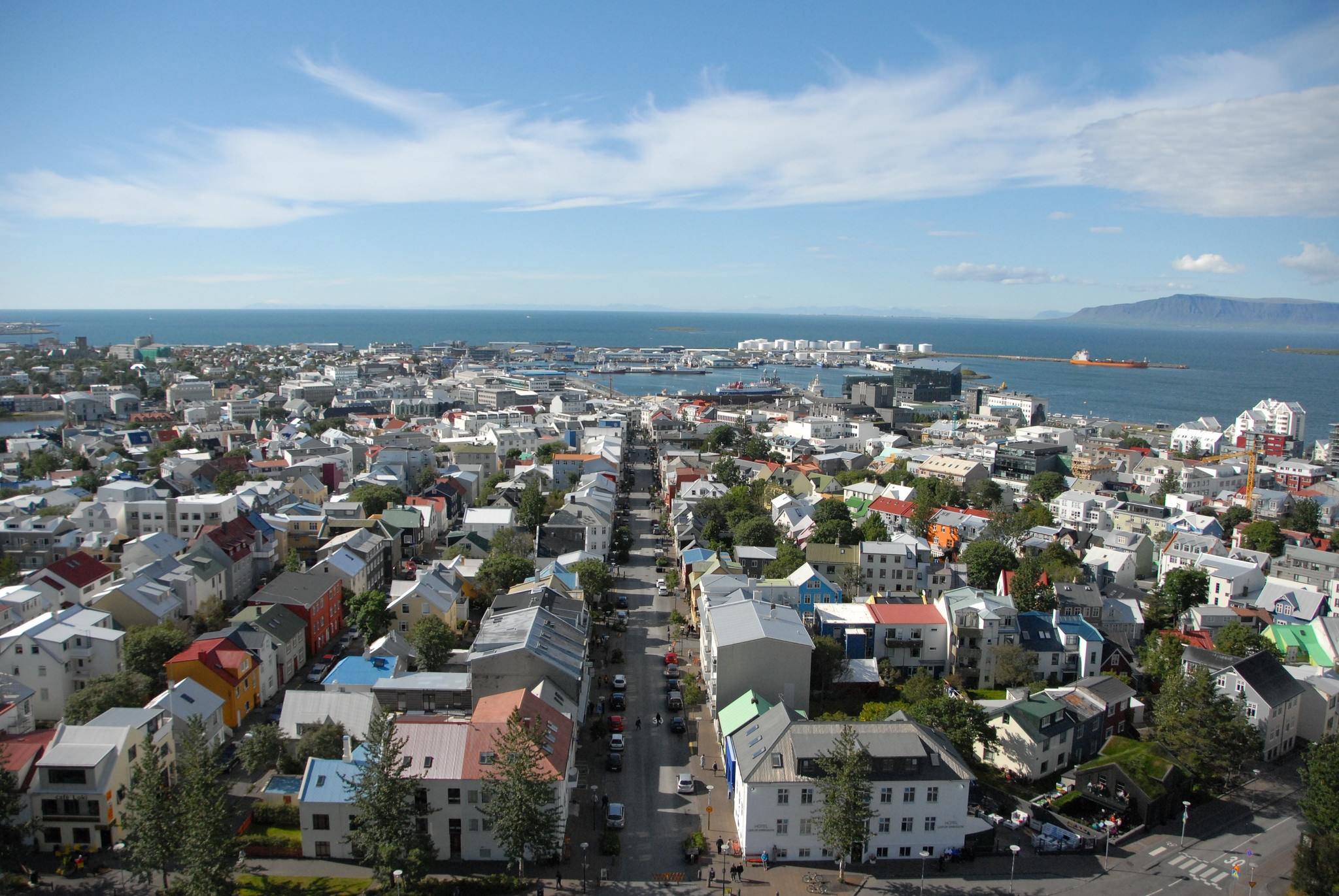 October 18, 2016


48 Hours in Reykjavik

I think it's safe to say that Iceland is the hottest travel destination on the planet right now & the majority of visitors spend the bulk of their time in Reykjavik. This capital city feels part Scandinavian, part European, part eclectic town. 48 hours is the average length of time that visitors (especially stopover visitors) spend in Reykjavik. Here's how you should spend your two days in this colorful, quirky city.
How to Get There
Coming from the U.S., we basically had two options to get to Iceland: Icelandair or WOW Air. We flew Icelandair direct from Washington, DC. It was an easy, five hour overnight flight & the service on Icelandair was phenomenal both ways – super nice flight crew, great food options (I had my best in-flight meal to date: a kale salad from the famous Glo restaurant) & decent free seat back entertainment. Coming back, our flight was so empty we were able to move to the aisle & window seats of an exit row.
WOW Air is a newish ultra-discount airline (think of it as Iceland's version of Spirit Airlines). I know a few travelers who have had bad experiences with them, but their negative experiences have mostly been traveling using Iceland as a stopover destination, not a final destination (the issue comes when they have to fly onward to Europe & WOW flights face delays or cancellations). From Europe, there are a few more options, including easyjet, Norwegian Air, British Airways & Air Berlin.
Speaking of stopovers: it actually would have been cheaper for us to fly to Iceland, stay for five days as part of a stopover (the length of our whole planned stay), hop on a plane to Europe & then turn around & head home. We didn't do that because we didn't have an extra vacation day or two to burn, but if you have any flexibility, I'd definitely recommend pricing it out. Since this post is all about 48 hours in Reykjavik, you could definitely follow this plan for an easy two day stopover.
Where to Stay
While the majority of our lodgings were good in Iceland, unfortunately our hotel in Reykjavik was not. When we go back again, we'll likely try to snag a room in one of the city's only luxury hotels: 101 Hotel (where all the celebrities tend to stay) or Hotel Borg (right across from Parliament). One of the CenterHotels properties (just don't stay at the CenterHotel Plaza where we were), & Icelandair Hotels are also decent, although less luxurious, options.
What to Do
We love exploring cities when we travel, so we went back & forth about how much time to spend in Reykjavik. It worked for us to head to the city at the end of our trip & we ended up with about 24 hours in town. The great thing about Reykjavik is that it's easily walkable & full of colorful side streets & alleys to explore. Want to go on an organized walking tour? We heard great things about this one, but unfortunately didn't have enough time to join it ourselves.
The map above details the walking tour we did over the course of an afternoon & a morning (we had planned on doing the whole thing the day we got there, but got sidetracked by the parade going on to celebrate the Icelandic national soccer team – more on that in a moment). Here are some highlights:
Hallgrimskirkja 
A giant white concrete Lutheran church dominates the Reykjavik skyline & most photos. Hallgrimskirkja is visually commanding as you walk up the street toward the front, greeted by a statue of Leif Erikson (a gift from the U.S. to Iceland). Columns extend down from the sides of the main tower, mimicking the basalt columns found around the country.
Inside, the church is surprisingly plain. If you time your visit right, you might be lucky enough to hear a concert on the church's pipe organ.
The highlight of a visit is taking a (very small) elevator up the 73 meter tower to an observation deck offering 360 degree panoramic views of Reykjavik & the surrounding area. Admission is ISK900 & well worth it.
Harpa
This eye-catching, honeycomb glass enclosed concert hall is perched along the harbor & is definitely worth a stop even if you're not taking in a performance. Opened in 2011, Harpa is home to the Iceland Symphony Orchestra & The Icelandic Opera. The doors to the building are unlocked until midnight & it's fascinating to walk around inside, taking in the unique architecture. While you're in the area, walk along the water down to the Sun Catcher sculpture. This beautiful mirrored sculpture (which some say looks like a Viking ship, but the artist says isn't) catches the sun at different angles throughout the day.
Tjörnin
Tjörnin (in English: The Pond) is the small lake in central Reykjavik. It's located close to the Parliament building & is perfect for a lovely stroll on a sunny day.
L Street & S Street
Reykjavik has two main streets where the majority of the shops & restaurants are located: Laugavegur ("L Street") & Skólavörðustígur ("S Street"). Take time to wander up & down both of them, popping down side streets when they look interesting. Keep an eye out for all of Reykjavik's colorful street art.
Where to Eat
Where to Eat Dinner: We had one of our favorite meals of the trip at Höfnin, a seafood restaurant housed in a bright turquoise restaurant right along the harbor. Our last night of vacation, we splurged on the tasting menu, which included reindeer, seafood stew with lobster, lamb & a yummy dessert (the waiter was nice enough to let me substitute their apple crisp for the chocolate cake, since we visited on the 4th of July). The waitstaff was friendly, the service efficient & the food very good. We enjoyed chatting (& celebrating America's birthday) with one of the waiters who had moved to Iceland the month before from San Diego.
Where to Eat Lunch: Everyone who gave me a recommendation for Reykjavik said the same thing: "You must have lunch at The Laundromat Cafe." This Americanized cafe has a big menu of breakfast & lunch options & would fit in perfectly in the middle of any American city. While I like to usually eat exclusively local food while traveling, the restaurant was located convenient to our hotel & had a really fun, colorful vibe. B & I both had sandwiches & spent a decent amount of time eyeing their amazing looking cakes. Oh, & if you need to do laundry, they really do have a fully functioning laundromat.
Where to Grab a Snack: Much has been written about Iceland's hot dogs, which are a thousand times more delicious than America's. Baejarins Beztu Pylsur is Iceland's oldest hot dog stand & the place to grab a dog during your time in the city. We stopped by around 11:00pm & the line was fairly short. On instruction by a good friend who has been to Iceland more than two dozen times, we ordered them "with everything," which meant the lamb, beef & pork filled hot dogs came topped with ketchup, sweet mustard, remoulade, crisp fried onion & raw onion. They were absolutely delicious – my new standard for a midnight snack.
Looking for ice cream, rather than hot dogs? Joylato Ice Cream  is darn good.
Where to Grab a Coffee: I love visiting local coffee shops when traveling & popped into Kaffitar, a local chain, to grab a cappuccino while we were walking around. No Starbucks in Reykjavik! If you really need American chain coffee, there is a Dunkin Donuts right on the L Street, almost right across the street from Kaffitar. Do yourself, & Iceland, a favor & visit the local place instead!
Be Spontaneous
The day we arrived in Reykjavik, we planned on walking around & hopefully taking a short tour before our dinner reservations. After visiting Hallgrimskirkja, we were wandering down S Street & noticed a number of TV cameras set up along the street. Finally we stopped & asked a producer what was going on. "Oh, you don't know? There's a big parade celebrating the football team, which just landed." In case you were living under a rock this summer, Iceland's football team went further in the Euro Cup this summer than any team ever had before. Even though they were eliminated in the semi-finals, Iceland was ready to welcome their sports heroes home. We quickly abandoned our plans, bought a few Icelandic flags from a street vendor & found a spot to watch the parade. Over 30,000 Icelanders piled into Reykjavik that afternoon & the atmosphere was absolutely electric.
After waiting a long time, finally a single bus carrying the team came crawling down the street to the cheers of the throngs who had gathered. Lead by a small band of drums, the team broke into the Viking cheer right in front of us! It was one of my most favorite travel experiences ever.
You've probably seen the video of all the fans in the park, chanting the Viking cheer in unison. We walked past there on our way to dinner & I swear the ground was shaking. We considered skipping dinner to join the crowd (even though it would have been awesome, I'm glad we didn't, especially since most of the presentation was in Icelandic).

Moral of the story? Be ready to abandon your plans if something interesting comes along – flexibility is key in creating great memories while on the road.
Got an Extra Day?
We would have loved to do a puffin tour or a whale watching tour, but just ran out of time. There are a number of tour companies that leave right from the harbor.
If your only time in Iceland is going to be based in Reykjavik, take an extra day to get out of town & into nature. The best way to do this is renting a car & heading north or south on the ring road. If you don't want to drive, there are a number of local companies that run day tours, including Glacier Guides (we did our glacier hike with them – they were excellent).