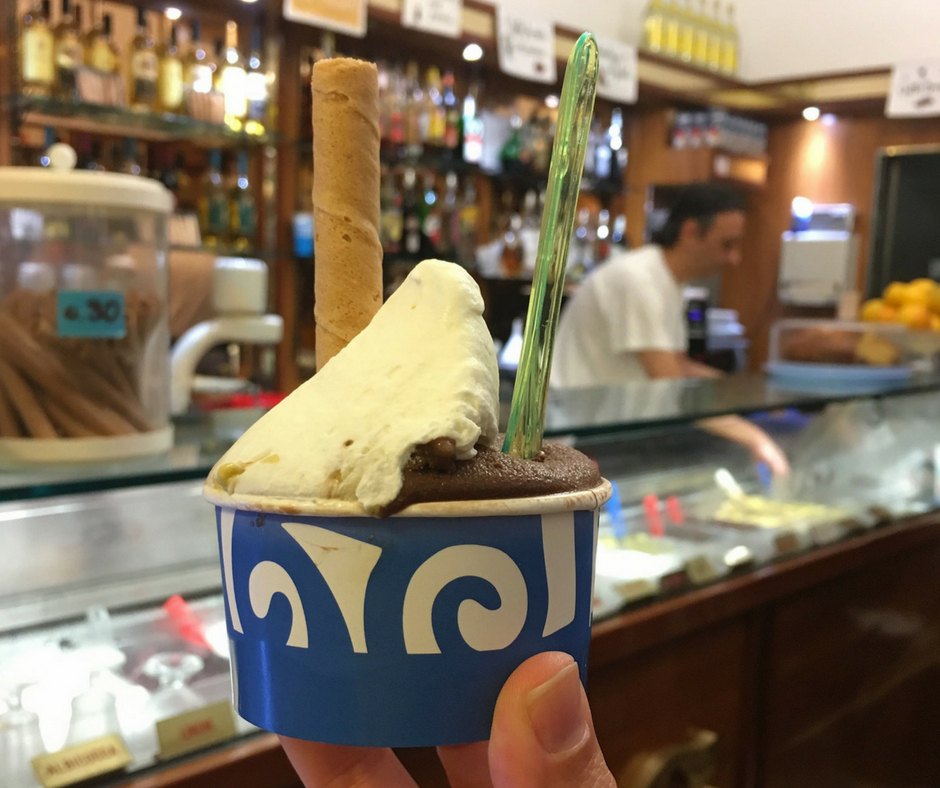 November 21, 2017


Testaccio Supper Stroll – Eating Our Way Through Rome

One of my favorite ways to hit the ground running in a new city is to go on a food tour the first day. It's not only a good way to combat jet lag (since you're forced to stay up & get outside), tours led by locals who can give you a glimpse into all the best places mean you'll be eating well the rest of the trip. When researching food tours in Italy, I came across Eating Italy's Testaccio Supper Stroll & knew it was the perfect way to eat our way through Rome.

Nesim, our guide who was born in my hometown of Washington, DC & raised in Testaccio, guided us through the neighborhood where the culinary movement started in the city, way back in Roman times. Testaccio was ground zero for where shipments of food from the far corners of the empire arrived. Considered to be the culinary heart of Rome, the neighborhood is also tied to a slaughterhouse which shut down in 1975 after 90 years of work. The neighborhood built up around it to house those workers – & their hearty Italian appetites. Testaccio is named after a large hill in the neighborhood which is composed entirely of broken fragments of the pots that were once used to bring food from across the Empire to this corner of Rome.
Palombi: Aperitivo Stop
Our first stop was the first stop for many Italians at the end of the day: at a bar for a spritz & snacks, known as aperitivo. Palombi, a restaurant founded in 1917, served as an olive oil & wine emporium during the war & was recently restored back to its original intention as an osteria. We drank bitter Aperol Spritz & munched on traditional taralli cookies. Romans believe the bitterness of the spritz prepares your body for a meal; across Italy there are variations on the spritz. Aperitivio perfectly encapsulates everything that is right with Italy: friends gathering socially before dinner to have a few drinks & enjoy life, before tucking into the evening meal. It's like American happy hour – only better!
Mastro Donato: Traditional Roman Street Food
Our second stop was for traditional Roman street food called fritti. These fried appetizers can be everything from seasonal vegetables (which is what we enjoyed) to salted cod to squash blossoms stuffed with anchovies & mozzarrella. Mastro Donato, the pizzeria we stopped at to enjoy fritti & prosecco, also serves up some of the best pizza in Rome. We enjoyed hearing from the owner about how to find quality, authentic pizza: super thin crust with personal sized pie. The best pizzerias only fire their wood ovens for dinner (not lunch!) when serving the entire pizza. Pizza for lunch is served Sicilian style by the slice. We had really authentic pizza & really touristy pizza during our time in Italy – but they were both way better than pizza in the U.S.!
Masto: #allthecheeses #allthemeats
B's favorite stop on the food tour was at Masto, a trendy meat & cheese bar down a quiet side street specializing in the "slow food" (or as we call it in the States "farm-to-table") movement. Our group took up most of the small space, as Italians popped in for a glass of wine after work. The store is unique in that it sources directly from the producers & has to agree with all the practices of the producers. Their producers use all local ingredients, so everything in the store is seasonal. We enjoyed a sampling of a variety of meats, cheese & two types of local wine.
Ristorante Aneglina: the best pasta in Rome
My favorite stop on the tour was home to the best pasta I had in Rome: Pasta alla Gricia. This Roman specialty is made out of four ingredients: high quality pasta cooked perfectly al dante, guanciale (cured pork jowl), Pecorino Romano (nutty, salty) cheese & black pepper. Angelina's was so perfectly cooked, I could eat it for every meal for the rest of my life.
While there, we also enjoyed two other traditional Roman dishes: coda alla vaccinara (oxtail) & trippa alla romana (tripe). Organ meat might not normally be my usual choice, but they were both done very well & I enjoyed the bites I had (they dry red wine helped wash it down!).
Trapizzino: Pockets of Yumminess
While we were totally stuffed at this point, our last two stops offered a glimpse into casual dining for Romans. Trapizzino, a local chain which started in 2008 & has spread to 7 locations across Rome & 2 in Florence, is a tiny carry out place creating small handheld pockets of doughy goodness. Think a pizza folded up into a triangle for portability. The name "trapizzino" is a play on words meaning in-between – it's a snack meant to be eaten between meals. But unlike American fast food, which can be greasy & unsatisfying, the quality of the ingredients & cooking were just as high as at the sit-down restaurants we had visited. My chicken trapizzino was excellent; I could definitely see the place becoming a weekly habit for me if I lived nearby. Unfortunately, their only U.S. outpost (for now) is in New York City.
Giolitti: Traditional Gelato at its Finest
Our last stop on the tour was arguably the best – at the very least, it was the best gelato we had in Italy. Serving the Testaccio neighborhood since 1914, Giolitti is now being run by the 4th generation of the same family that founded the shop (an official government symbol hanging in the shop denotes this distinction). My cup of chocolate & pistachio gelato got a nod of approval from the owner behind the counter (he assured us he would not let us pick a weird combination) & was topped with a dollop of homemade whipped cream made from the same machine they used in the '30s.
At this stop, we also learned some tips on how to tell good gelato from bad gelato – tips we used all through our stay in Italy. The places that pile gelato into mountains, high above the edge of the container? Bad – it contains too much air. Look at the colors: mint should be white or very light green, not bright green; pistachio (my personal favorite) should be brownish yellow, not bright green! The best gelaterias are always willing to offer a sample.
Wandering Testaccio
In addition to all the delicious food we sampled on the tour (it might be the first food tour I've ever been on where I didn't leave hungry at the end!), we also enjoyed just wandering around the Testaccio neighborhood. Since Nesim had lived in the neighborhood for decades, he knew many of the shops & stories behind the architecture we were seeing. We stopped to gawk in shop windows at handmade arancini (fried risotto balls which are like heaven in your mouth), suppli (arancini's Roman cousin, which are oblong & stuffed with mozzarella) & fresh pasta. Next time we visit Rome, I definitely know which neighborhood we'll be staying in!
Know if you go…. 
– Our Testaccio Supper Stroll included alcohol with every stop, although non-alcoholic beverages were also available. If you're a non-drinker, or are bringing children along, there's an afternoon version of the tour which isn't as beverage focused.
– Bring a bottle of water with you! You're going to want something to balance out the booze. Water was offered in carafes on the table at the Angelina's stop.
– There is definitely a lot of walking involved, so wear comfy shoes.
– The meeting point isn't hard to find, but it's definitely off the beaten path from the touristy parts of Rome. We sprinted through the Trastevere neighborhood to get there – I definitely wish we had left ourselves more time.
Note: I was provided with a small discount by Eating Italy for my & B's food tour. This discount in no way influenced my opinion of the tour & I retained full editorial control over content. The food tour was just really good & definitely worth paying full price for!