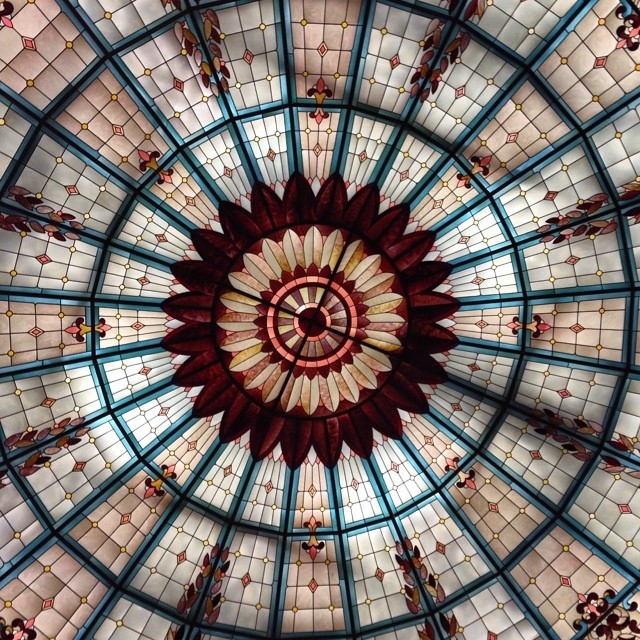 October 26, 2017


48 Hours in Richmond, Virginia

Despite living only 100 miles away, I'm more likely to jump on a plane to Europe than to visit the capital of the state commonwealth I've called home for over a decade. A visit to Richmond, Virginia was long overdue, so when the historic Jefferson Hotel asked if B & I would like to come down for the weekend, I jumped at the chance. We stayed there several years ago, but they've recently completed a multimillion dollar renovation & the place looks better than ever. Here's a look at the Jefferson & how to spend 48 hours in Richmond, Virginia.
How to Get There
While Richmond is definitely a driving city (you'll want a car, one way or another, in town), you can fly there through the nimble Richmond International Airport or take the Amtrak train to the gorgeous historic train station downtown.
When driving from DC, down the worst stretch of road for traffic in the entire country, pack your patience, consider not leaving Friday afternoon & get the heck off I95 & wander Virginia's lovely backroads.
Where to Stay
The Jefferson Hotel has been a Richmond institution since 1895. A fire nearly destroyed the hotel in 1901 (during the evacuation of the lobby's famous Thomas Jefferson statue, he was dropped, causing his head to pop off – oops). But Virginians banded together & she reopened in grand splendor in 1907.
One of my favorite stories about the hotel is the property's previous occupants: pet alligators, who lived in the Palm Court, under the shadow of the massive marble Jefferson statue. Richmonders & hotel guests contributed their alligators to the collection, which is just mind-blowing to think about! The last gator left in 1948, but the little guys pop up in details all over the property.
Our Grand Premiere Room (their most popular room category) was luxuriously comfortable, with a huge king-sized bed, a marble-filled bathroom (complete with soaking tub!) & even a little dressing area. Attention to detail does not go unnoticed, from an in-room Nepresso machine to a robe & slippers placed on the bed during turndown service, to a TV in the bathroom mirror. Any hotel room where I can soak in the tub & watch college football at the same time sounds good to me!
One of the best things about staying at the Jefferson? Amenities that are provided a la carte or as part of a resort fee are complimentary! It's almost unheard of for a luxury property to provide free wifi, yet the Jefferson does. Daily newspapers, high end toiletries & staff who embrace southern hospitality make the Jefferson Hotel the perfect place to stay.
Where to Eat Dinner
Richmond's food scene has exploded since our last visit, nowhere more so than the Scott's Addition neighborhood. This transitioning former-warehouse area is now home to the majority of Richmond's craft breweries & restaurants are popping up to feed hungry beer lovers. We had a great dinner at the (admittedly, kind of randomly Alpine-themed) Brenner Pass. And while diving into a giant pot of bubbling fondue during one of Richmond's humid summer evenings might not sound appetizing, I can assure that that as soon as the weather breaks, it's the best place to be. Make sure & request their homemade hot sauce, which comes in a cute dropped bottle. Other highlights included the beef tartare, creamy meatballs & polenta, & crispy arctic char.
Next door is their adorable coffee shop/market/wine bar, Chairlift.
Where to Brunch
The Jefferson Hotel hosts nearly 400 people every weekend for their famous brunch. Featuring over 100 items, it's impossible to leave hungry. Everything from a raw bar to make your own pasta station to custom omelets to a towering dessert spread. Some of my favorite bites included their fall-themed desserts (pumpkin. spiced. cupcakes), the pull-apart Jefferson bread & their special eggs benedict. Brunch is $45 for adults & includes bottomless mimosas, coffee & juice. Reservations are a must & Sunday brunch usually sells out weeks in advance.
Where to Drink Beers
While Richmond now has more than 20 craft breweries, one of them stands taller than the rest. Hardywood Park has long been brewing some of my favorite Virginia beer. Their production campus includes plenty of shaded places to sit, a live music stage & even a bocce court. In the fall, their Farmhouse Pumpkin is a must. Their RVA IPA might be my favorite beer in the entire state.
What to Do
The Carytown neighborhood is full of funky vintage & boutique stores. A stroll down Cary Street means bookstores, coffee shops, a day spa which does a fantastic pedicure & enough vintage shops to redo your entire closest. Some of my favorites include Virginia Diner (which sells all Virginia-made or themed items), Merrymaker Fine Paper (I love paper stores), Walkabout Outfitter (a Virginia-based outdoorsy store) & Ladles & Linens for housewares. I had an excellent pedicure at Perception Organic Spa & could have bought every single thing in Mongrel card store. Stop by The Daily for lunch – I enjoyed their veggie burger with an Asian twist.
History buff? Check out Hollywood Cemetery & the Southern White House & Museum of the Confederacy. And, with all the debates going on around the U.S. (& especially Virginia) on the presence of Confederate monuments, a drive down Monument Avenue is certainly thought provoking. For something less controversial, check out some of Richmond's well-preserved historic homes.
Know if you go…
– Richmond is the perfect weekend getaway if you're visiting the Washington, DC area or perhaps one of the nearby historic areas of Williamsburg or Yorktown.
– If you love amusement parks, tack another day onto your trip to visit nearby Kings Dominion.
Note: Our stay at the Jefferson Hotel & brunch were provided compliments of the property. Our dinner at Brenner Pass was provided by Visit Richmond (however we picked the restaurant). My View from the Middle Seat retains all editorial control over these partnerships – I would have done the exact same itinerary on my own!