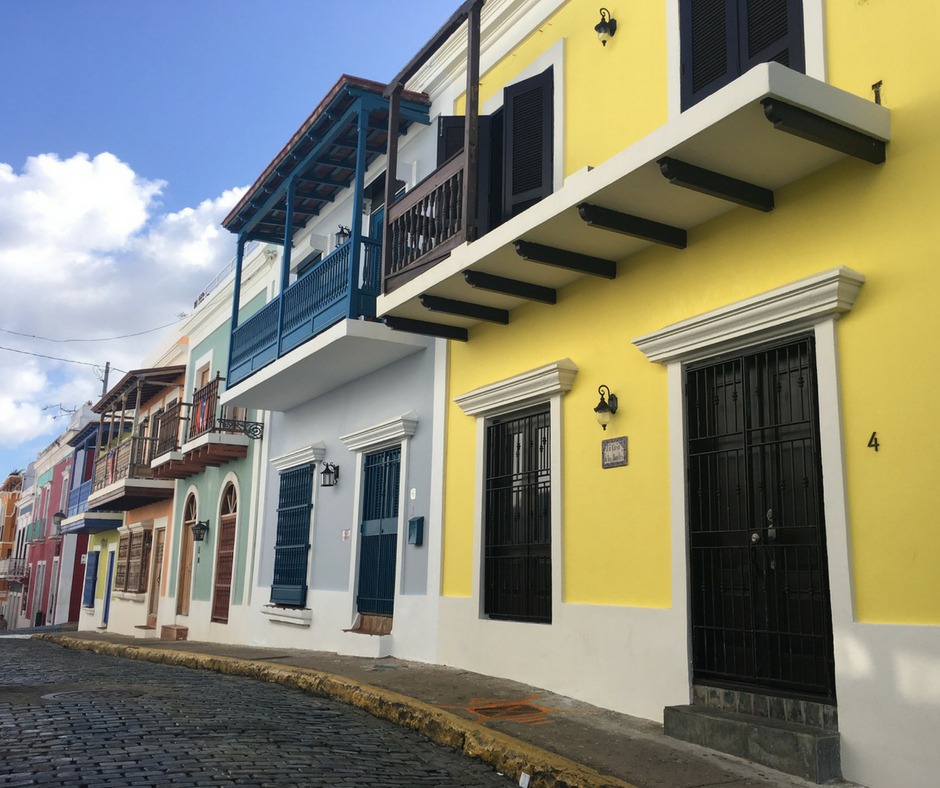 March 6, 2018


Why You Should Book a Trip to Puerto Rico Right Now

Hurricane Maria hit Puerto Rico more than five months ago & many parts of the island are still feeling the devastating impacts: nearly 30% of the population, over 400,000 people mostly in the mountainous middle of the island, still do not have electricity, some schools & hospitals are still closed or struggling & my fellow Americans, who depend on tourism for a big chunk of their economy, desperately need visitors to return.

Despite these hardships, I had heard from other recent visitors that San Juan, particularly Old San Juan, was back up & running to much of its pre-storm strength. So for a quarter of the price it would have cost us to go to South Florida, we headed down to Puerto Rico for a February long weekend to check on the recovery, pump some money into their economy & show our fellow Americans that they're not forgotten. Here are all the reasons why you should book a trip to Puerto Rico right now.
Open for Business
The view landing in San Juan's airport is of blue squares that dot the landscape – Army Corps of Engineers-provided tarps serving as the roof of too many Puerto Ricans homes. My first impression was that the island is greener & more lush than expected – but hurricane damage was evident even from the air.
As we rode from the airport into Old San Juan, we passed neighborhoods that looked like the storm hit yesterday – buildings in ruins, the second floor of homes completely uninhabitable, toppled trees. Making our way into Old San Juan, the picture brightened a bit: a cruise ship came into view & fellow pale northerns escaping the winter cold wandered the sidewalks. Had I closed my eyes all the way from the airport to our hotel, I would have opened them to a world that looked very similar to its pre-hurricane life.
Luxury Lodging in Old San Juan
The gorgeous Hotel El Convento reopened its doors to visitors last December & hasn't looked back since. Once standing proudly as a convent for 252 years & almost torn down in the late 1950s, El Convento has stood proudly as San Juan's premiere boutique luxury property ever since. The comfortable, Spanish-style rooms feel a million miles away from the blue tarp roofs. Our juliet balcony overlooked the harbor entrance, with its cruise ships silently slipping by day & night.
The El Convento is an oasis of luxury lodging in Old San Juan: the rooftop plunge pool & sundeck is the perfect place to read & relax. An afternoon wine & cheese reception features Spanish wines & cheeses, in a relaxed atmosphere. Even the hotel's patio restaurant – the only dining option currently open on the property – gave us one of our favorite meals of the trip: a traditional arroz con gandules with shrimp & chorizo.
Restaurants are Open & Yummy in Old San Juan
We are notoriously bad at eating well during our trips, but this trip may have broken that streak. Armed with a list of recommendations from recent visitors, we ate delicious, traditional Puerto Rican food for almost every meal:
Traditional mofongo, a plantain-based dish, is a must for your time in Puerto Rico. The best we found was recommended by fellow-DC blogger & proud Puerto Rican, Dining Traveler: Cafe Puerto Rico, a casual spot near the cruise port. Don't be fooled by the location – it's not at all touristy. Go hungry & skip the appetizer – mofongo is a dense, carb-y concoction that's very filling & very delicious.
One afternoon by the pool, we struck up a conversation with another young couple who happened to live in Old San Juan & recommended a great lunch or early dinner spot: El Jibarito. Located down arguably the cutest street in Old San Juan, this casual, colorful spot is packed full of locals enjoying traditional Puerto Rican dishes. My pork in creole sauce is one of the best things I've eaten while traveling, while B's "Christmas special" was a heaping plate of authentic goodness: yellow rice, plantain tamales, pork & sweet plantains. The place is always packed & the service is less than speedy, but it's definitely worth the wait.
St. Germain Bistro was recommended by one of my Instagram followers & is a favorite of repeat visitors. Despite the fact that it was packed & understaffed the day we visited, it still gets thumbs up for me for their American-style brunch. Silky poached eggs, sweet Nutella & croissants & a great $19.99 brunch deal make this an ideal Sunday morning spot. Best of all, we enjoyed chatting with the owner, who thanked us for coming to visit & reiterated how much they need visitors to return.

Marmalade was recommended by many people & is often cited as the best restaurant in Puerto Rico. We enjoyed the three & four-course tasting menus & the romantic ambiance. It definitely is not traditional Puerto Rican food – everything from the food to the wine list is distinctly European-feeling – but a nice upscale dining experience.
Exploring History in Old San Juan
Despite the fact that we've been to San Juan previously for a few hours on a cruise stop, we weren't bored at all during our stay. Both forts, which are run by the National Park Service, are worth exploring for a few hours. The views up & down the coast are worth the price of admission alone. Visit both Castillo San Cristóbal & Castillo San Felipe del Morro within 24 hours & your $7 admission ticket is good for both sites.
Take some time during your visit to walk along the Old City Wall, La Muralla. A path, Paseo del Morro, follows the outside of the wall along the water, curling around the tip of del Morro. Through a little creativity (& walking through the grass), visitors can access del Morro from the walking path. 
For a different perspective of the city, hop on one of the harbor's tour boats. We enjoyed an impromptu tour with San Juan Water Tours & saw the city from the water for just $10.
If a stretch of sand is more your speed, several of the world's best beaches are located on the island, some within 20 to 30 minutes of the city. Snorkeling & diving tours operate from the east side of the island, with many of them up & running. The only tropical rainforest in the National Forest System, El Yunque, suffered major damage in the hurricane, but volunteers & forest system employees are working hard to get it back up & running.
You Should Book a Trip to Puerto Rico Right Now
I've gotten more questions about our trip to Puerto Rico than I have from a trip in a long time. I've told everyone the same thing: go. Book a trip to Puerto Rico. Old San Juan is lovely & open for business – & they really need our tourism dollars.