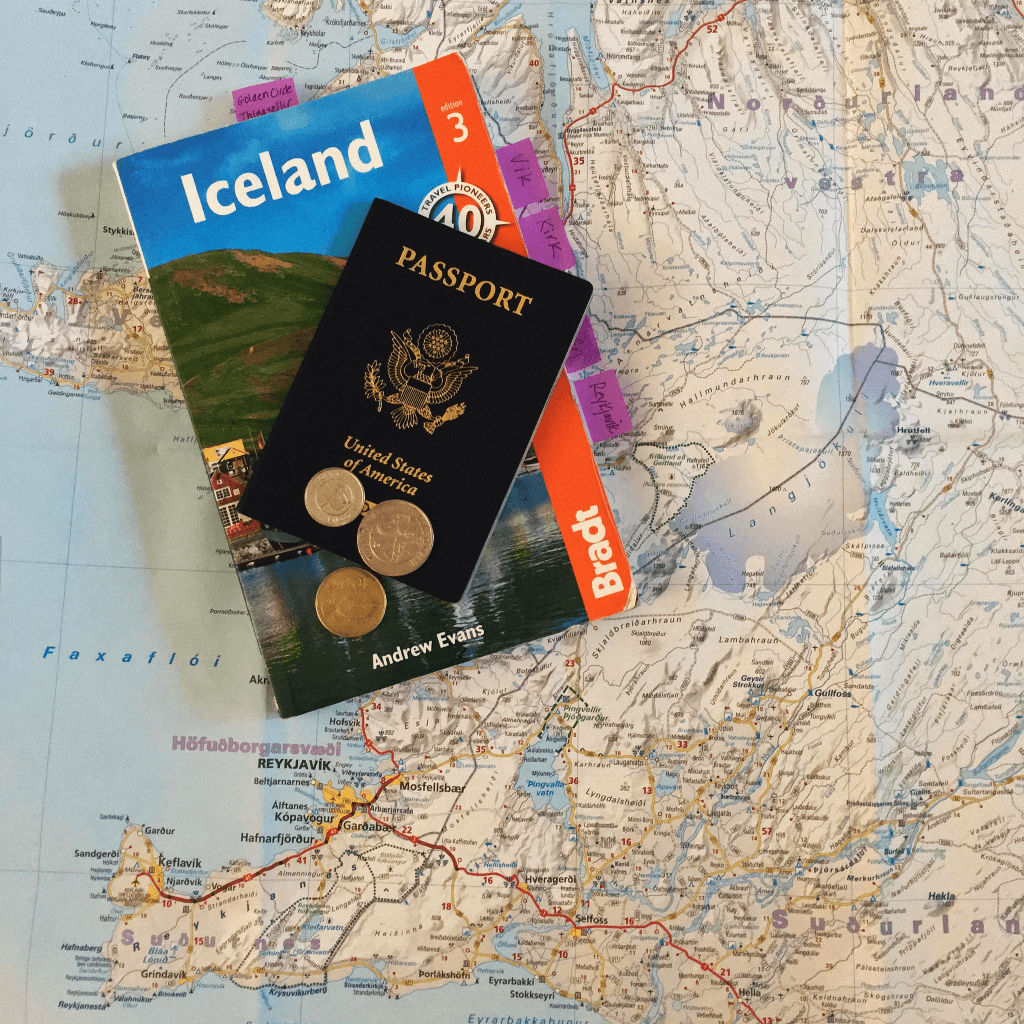 April 25, 2017


Iceland Summer Packing List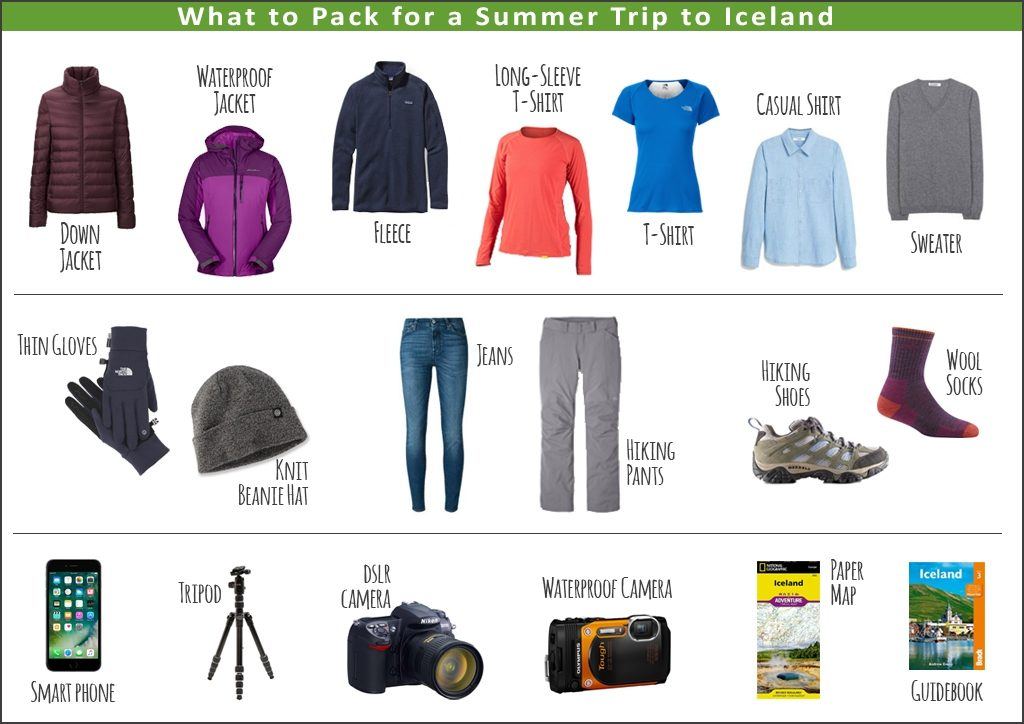 The number one question I get about our trip to Iceland is: "I'm going this summer – what do I pack?" This isn't surprising since, I was also stumped on what to pack for Iceland's "summer," where temperatures & precipitation can swing wildly in a matter of minutes. Here is everything I packed – & how it came in handy – during our July trip to Iceland last year:
Outerwear
It seemed weird to be packing multiple winter coats for a trip in July, but I'm so glad I did because it meant I had options! My main outerwear was an awesome 3-in-1 waterproof jacket from Eddie Bauer which sadly is no longer available online. It's worth seeing if you can find one, though, because it was great to have a fleece & lighter weight waterproof shell all in one – it let me layer based on the constantly changing summer Iceland weather.
I also took a lightweight package puffer jacket (this one from Uniqlo), which I only wore one day when it was especially cold, but it was small enough that it wasn't a big deal to throw in my carry on. I also brought a knit beanie cap (wish it has been waterproof!) & thin gloves, both of which I wore throughout much of our trip.
Waterproof Everything
B & I basically dressed like hikers the entire time, which meant everything was waterproof, comfy & reusable throughout the trip. We each brought two pairs of hiking pants, which were perfect for our five day trip. Under our jackets, we layered short & long sleeved t-shirts (& sometimes both) made of whisking material – no room for cotton here! Rugged hiking shoes that we didn't mind getting dirty or wet coupled with cushy hiking socks were the best shoe choice I've made on a trip in a long time.
Navigation & Cameras
Countless bloggers & travelers have documented their difficult experiences using a GPS in Iceland – the names of all the attractions are in Icelandic (& remembering how to spell "Bláa lónið" after a redeye flight may prove challenging). So we decided before we left that we were going old school: paper map only. I bought a good paper map at Barnes & Noble & spent a lot of time with it prior to our trip, mapping out routes & distances. The only place we got even a little lost was navigating from the airport to the Golden Circle during morning rush hour traffic (& only because we missed a turn). If you're driving the ring road, there's no reason you need a GPS – just grab a map! We also brought an actual paper guidebook, marked with notes & flagged with post-its. This Bradt one, written by a friend of mine, is how we decided on every restaurant we ate in.
I brought three cameras with me, as I do on many trips: my DSLR, a waterproof camera (came in very handy walking behind waterfalls!) &, of course, my iPhone. I used all of them throughout our trip. I also brought a lightweight travel tripod, which I used less than I thought I would (but always bring on landscape-heavy trips).
City Clothes
The first thing we did after arriving in Reykjavik is change out of our hiking gear – nothing screams tourist there like walking the streets in dusty hiking pants. I was glad I brought a pair of jeans, loafers & a few casual shirts to fit in a bit better in the city.
@MiddleSeatView's Top 10 Iceland Summer Packing Tips
1. Make sure your outer layer is always waterproof.
2. Make sure your shoes are waterproof.
3. Don't even bother with an umbrella.
4. Bring a set of non-outdoorsy clothes if you're spending any time touring around Reykjavik.
5. Traveling around Iceland is not a fashion show – outdoorsy, hiking clothes are the norm outside the city.
6. Even if you're just going on short hikes, or mini-explorations, jeans won't be comfortable (especially when they get soaked from the spray of a waterfall).
7. Bring a reusable water bottle! Many natural sources are clean enough to drink straight from (always try to identify what is upstream before sipping).
8. Our genius plan was to change clothes in the airport after we landed. Anyone who has been to KEF knows that it is an absolute zoo in the morning with all the transatlantic flights landing & the bathroom facilities are very limited (& tiny – no handicapped sized stalls here!). I ended up changing at the rental car company.
9. Ditch the GPS! Seriously. Buy a paper map ahead of time & brush up on your map reading skills. It's an incredibly rewarding way to travel.
10. Don't forget to pack a bathing suit & quick dry towels. You'll be glad you did when soaking at one of Iceland's many geothermal spas (we loved the Secret Lagoon). If you don't want to bring a towel, you can always rent one. If you don't want to bring a bathing suit, you can also rent one. But that seems… gross.
Note: This post contains links to certain products that I love. These aren't affiliate links & I don't benefit from you clicking on them. I just wanted to share what I love!
More Iceland Advice…
How to find the plane crash wreckage you've been hearing so much about
A few tips on renting a car & driving in Iceland
Where to stay & eat in Iceland
Our perfect 5 day Iceland itinerary